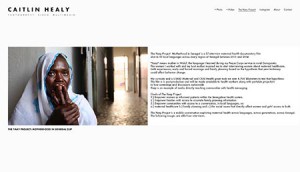 Congratulations to Caitlin Healy, an independent photographer, video journalist and filmmaker based in Dakar. Healy, a 2010 UFCJC Photojournalism graduate, is the producer of a new 57-interview maternal health documentary, The Yaay Project: Motherhood in Senegal.
Healy traveled 8,700 kilometers across Senegal to find stories of motherhood, birth, early and forced marriage and family planning. The documentary, featuring interviews in 10 local languages, captures a mobile conversation exploring maternal health across languages, across generations, and across the country. The Yaay Project is currently in post-production and will be made available to rural health workers along with portable projectors to host screenings nationwide.
After graduation, Healy became the first Multimedia and Communications Coordinator for Peace Corps Senegal, the largest Peace Corps program in Africa. While there she learned the Wolof language in rural Guinguineo. The word "Yaay" in the documentary title means mother in that rural language.
Healy has also worked for many organizations including AP Television News, Marie Stopes International, USAID Senegal and The Girl Effect. In early 2015, she traveled to Uganda on assignment with Photographers Without Borders. She was also invited to take part in the Magnum Photo Professional Practices Workshop and to participate in the inaugural THREAD at Yale: Storytelling in Modern Media workshop this summer.