Christine Bucan
Lecturer, Department of Public Relations
What are you teaching this semester?
I am teaching PR Writing and serving as the faculty advisor for the Bateman Team. Additionally, I am the faculty advisor for Alpha PRoductions.
What is your area of expertise?
I have extensive PR experience (age has a lot to do with it) in everything from consumer marketing to healthcare, travel and transportation. Most recently, I led the PR and social media divisions of a full-service agency based in Miami. I served as PR counsel to some of the biggest brands in the world, including McDonald's, American Airlines and Merrill Lynch. Prior to that, I spent more than 12 years as a journalist and PR professional in Central Europe. I ran my own PR firm in Prague and was employed by the Prime Minister of Croatia to improve the image of the country following its civil war.
Significant other, children, pets?
I've been married to my husband Zdenko for 28 years. We have two amazing daughters. Our oldest daughter works in strategic communications in New York and her sister is a junior at the University of Miami studying neuroscience. Our dog, Toby, has travelled extensively with us – from Canada to Croatia – but it's getting harder to bring him with us now and we're on the lookout for a pet sitter. Plea/plug intended – and photo available upon request!
What excites you most about coming to Gainesville?
I'm excited to be part of the intellectually curious, close-knit community of Gainesville. I love that, when I'm shopping at Trader Joe's or the Farmer's Market in Haile, I'm already bumping into people I've met. There seem to be endless opportunities to go out and enjoy culture, sports and the outdoors. I haven't been bored yet!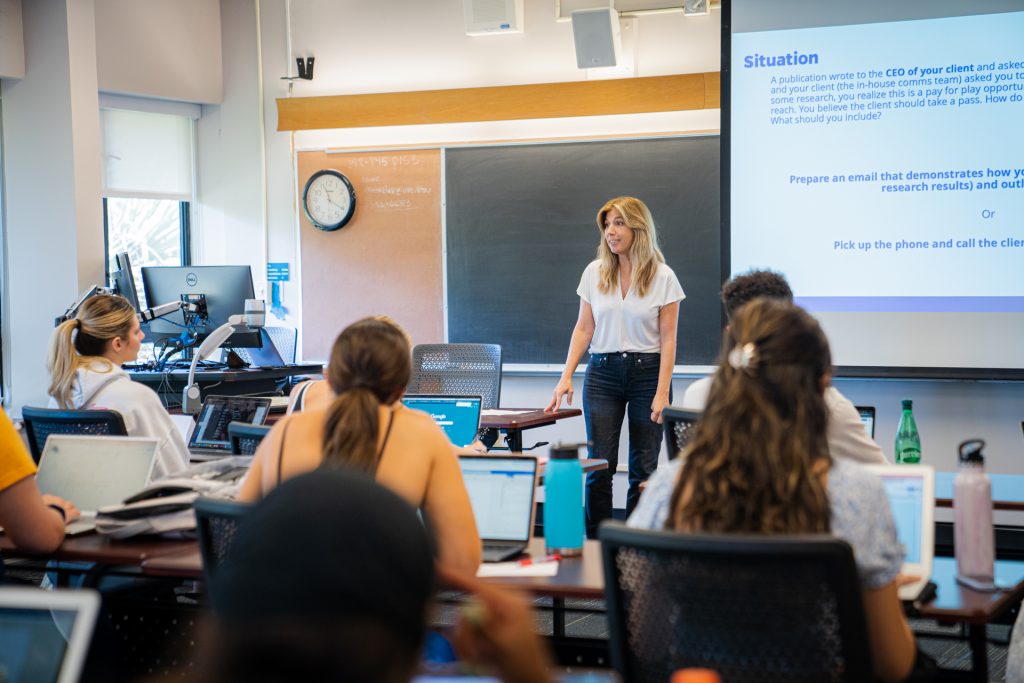 What accomplishments, personal or professional, are you most proud of?
Professionally, nothing beats a story or social media post that goes viral. I was incredibly proud of the work we did with McDonald's and #McDCouture. And I still get a high when I see a client being interviewed live on CNBC or on the front page of a major daily. Personally, am I allowed to say how proud I am of myself for landing this job at UF??!! I'm thrilled to be part of this prestigious program and university.
What three things don't we know about you?
I make really good crème puffs and am often asked to bring them to large gatherings.
I am a citizen of three countries.
When working as a rookie reporter, I was called to testify before the court to reveal a source. I exercised my constitutional right and refused – about 10 times!

Tagged as: Christine Bucan