Jaclyn DeAugustino Testimonial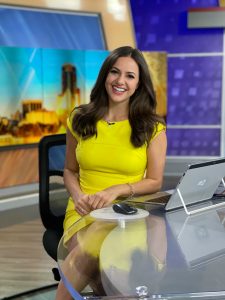 University of Florida graduate Jaclyn DeAugustino is a current traffic anchor and reporter at WESH 2 News in Orlando, Florida. DeAugustino grew up in Flagler County and graduated from UF in 2014 with a Bachelor of Science in Telecommunication.
While in college, DeAugustino took advantage of the opportunities within UF's College of Journalism and Communications to expand her skillset. During her two final years at UF, DeAugustino was a sports feature reporter for Gator Vision through which she filmed, produced and edited sports packages for the weekly show that aired on FOX SunSports.
She also put her skills to practice by anchoring and reporting for WUFT News, a station with a mission to provide educational broadcasting to the UF community and other schools within the broadcast area. Like most other UF students, DeAugustino gained further experience through internships which helped her solidify her passion for broadcasting. The summer before her senior year at UF, DeAugustino completed two internships simultaneously.
The first was a production internship with the Golf Channel where she was responsible for producing highlights, previews and other content for millions of viewers. DeAugustino also served as a news intern for WESH 2 News that same summer where she shadowed anchors directly. Interestingly enough, WESH 2 is the news station where she currently works and is the same station that she watched growing up.
"A lot of the people that I work with now I shadowed while I was in college," she said. "It's crazy how things circle back." 
These internship experiences allowed her the opportunity to network with professionals in the field and gain insight into both the behind-the-scenes and on-air aspects of the news industry. DeAugustino is a proud gator who truly believes that the hands-on experience that students have available to them through the UF CJC immersion programs allows them to stand out in both internship roles and full-time positions. 
"From a telecommunication standpoint, having to emulate real-life reporting shifts sets UF students above others," she said. "The tools that UF CJC provides are so valuable and really set students up for success." 
During her time at UF, DeAugustino was a part of the Dazzlers dance team and also served as an ambassador for UF's College of Journalism and Communications. Looking back on her four years, DeAugustino says that the real-world experience she gained at UF was the key factor in her being prepared to enter the workforce. 
"During my senior year, my classes were basically reporting shifts where I had to pitch stories, go out and shoot the stories and edit them all myself," she said. "It was all very real-life experience which was great."
She says that the same software she used to write scripts during college is the same software she uses now in her current position. 
"I feel like in the field of communications, it's the experience that really matters most," DeAugustino says. "UF CJC truly does an excellent job at giving students that."