Chip Mahaney Testimonial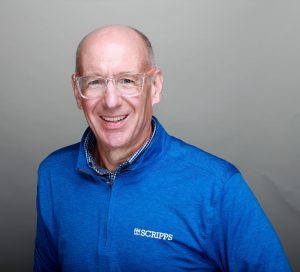 Chip Mahaney, Emerging Talent Leader for The E.W. Scripps Company, spends his days scouting and building relationships with journalists at pre-career and early-career experience levels.
E.W. Scripps is a progressive company with an appetite for change which has allowed it to remain ahead of competitors in the journalism industry. The Scripps Howard Foundation has provided support for many University of Florida educational initiatives and the company continuously recruits talented students from UF's College of Journalism and Communications.
According to Mahaney, the strong connection between E.W. Scripps and UF's CJC goes way back. In fact, several of the company's current employees are UF graduates. The collaboration and discussions that students have in the UF CJC's newsroom emulate what takes place at professional news stations.
"When I look at the working newsroom at UF, I see the same work that we do in ours," Mahaney said.
Scripps highly values UF CJC students and their ability to excel in the positions they obtain. Mahaney says that students possess excellent writing skills and understand how to effectively produce appropriate content for all platforms. Students have valuable experience with shooting and editing videos as well.
"What I see students being trained at UF is pretty much what we need them trained in to have them start their careers," Mahaney said.
By interning for E.W. Scripps, UF CJC students have learned from the professionals about how to tell stories and reach audiences in innovative ways. UF students who have gone on to work for Scripps full-time have taken on roles as multimedia journalists, broadcast producers and photojournalists.
"There is such a positive brand associated with the school," Mahaney said. "When you see someone who comes out with a degree from UF, you know they have a good chance at success and that they know the basics for sure."
According to Mahaney, what makes UF students stand out the most is their ability to do the work with polish, elegance, style and confidence.
"Overall, what I see the top students offer is excellence," he said. "Each year, I know that when I look at UF students, I'll be looking at some of the best in the country."