Career Events & Workshops
Spring 2023 Events
Career Workshops
Prepare for the Fair: Careers in Communications
Come to the Careers in Communications Fair fully prepared for everything: how to make a good impression, how to introduce yourself, talk to recruiters and standing out from the C3 and recruiters looking to hire Gators for communication roles.
Gator Career Consultant in Residence with Damon Sununtnasuk
Damon Sununtnasuk, Founder and CEO – Natural Cure Labs LLC and Sunt Group LLC (UF Class of '06, Bachelors of Science in Business Administration)
Friday, February 10
Agenda:
10 – 11:00 A.M. Why am I drinking with my boss? Cultural Lessons from Working abroad, and how to land a job overseas.
11- 12:00 P.M. Living the "4-Hour Workweek" – Entrepreneurship, passive income, and how to start your own business.
12 – 1:00 P.M. Product Marketing Case Study – Experience how to problem solve a real-life client challenge, and how to win consulting deals of your own.
For more info, visit career.ufl.edu/events
Gator Career Consultant in Residence with Glenna Palazzo
Glenna Palazzo, President of Black Cat Revenue a sales consulting firm specializing in strategic sales projects (UF Class of 1990 Bachelors of Science in Public Relations)
Thursday, February 9, 10 a.m. – 12:30 p.m.
Feeling Insecure, overwhelmed or struggling to stand out in your internship or career search? You are not alone! Join this interactive session to learn practical, hands-on tips from a Gator Grad covering the topics of credentialing and empowering yourself, using self-awareness to establish value, evaluating taking risks and crushing the dreaded awkward first meeting. Snacks will be provided so RSVP is required. For more info, visit career.ufl.edu/events
Polish Your On-Camera Performance Workshop
Wednesday, January 11, 5 – 7:30 p.m., in-person at the AHA! Colab and virtual (Zoom)
Event Summary: This workshop will set you up for on-camera success. Industry experts will address professional standards for on-camera appearance for women and men. You will learn the key elements of on-camera performance (hair, make-up, apparel, jewelry and delivery) that will set you apart in the job market.
The session will be offered in person and via Zoom. Dinner will be provided for those students who attend in person.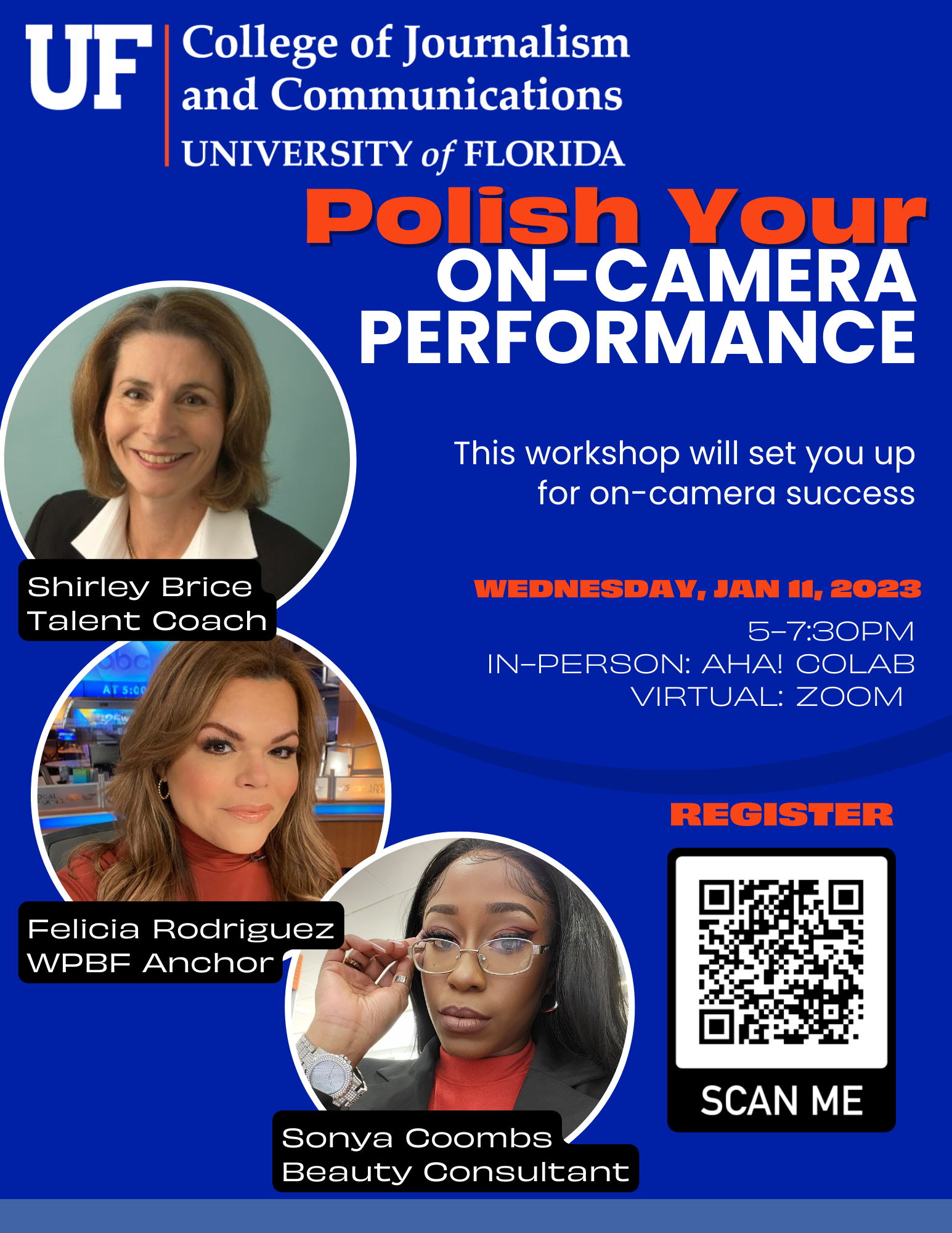 Fall 2022 Events
Career Workshops
Power Portfolios
Friday, October 14, 2 – 4 p.m. at the Weimer Hall Atrium
Monday, October 17, 2 – 4 p.m. at the Weimer Hall Atrium
Tik Tok Internship Information Session
Join TikTok recruiters for this information session to hear about internship opportunities and tips for submitting a strong application.
Event Details
Date: September 27, 2022
Time: 1:30 to 2:30 p.m.
Location: Weimer Hall, Room 3032
Zoom Link: https://ufl.zoom.us/j/94849621459?pwd=REdna0JGRE9jbmNlVjVwZHM4ZTZ0UT09 
Rules of the Resume
Tuesday, September 20, 2 – 4 p.m. at the Weimer Hall Atrium
Prepare for Career Showcase: How to Stand Out to Employers" Workshop Series
Planning to attend Career Showcase? Learn how to navigate the fair, prepare your elevator pitch, and make a positive impression. You'll also meet employers participating in Career Showcase who will share their advice on successfully connecting with recruiters at a career fair.
Sept. 6 – 4-4:50 p.m. – Career Connections Center, Exploration Room (Reitz Union Level 1)
Sept. 13 – 12-12:50 p.m. – Zoom Link
Sept. 19 – 3-3:50 p.m. – Zoom Link
Get to Know the Disney College Program with UF-Disney Programs Alumni
Thursday, Sept. 8, 3-4 p.m., Career connections center- Connections Room (Ground Level)
View a 30-minute webinar from Disney about the Disney College Program, then hear from a panel of UF students who have participated in the program. You'll learn how to successfully apply and what to know about working for the Most Magical Place on Earth!
This workshop is cosponsored by the College of Liberal Arts and Sciences Beyond120 program and the Career Connections Center. Any UF student or alumnus is invited to attend.