Careers in Communication Fair: Student Information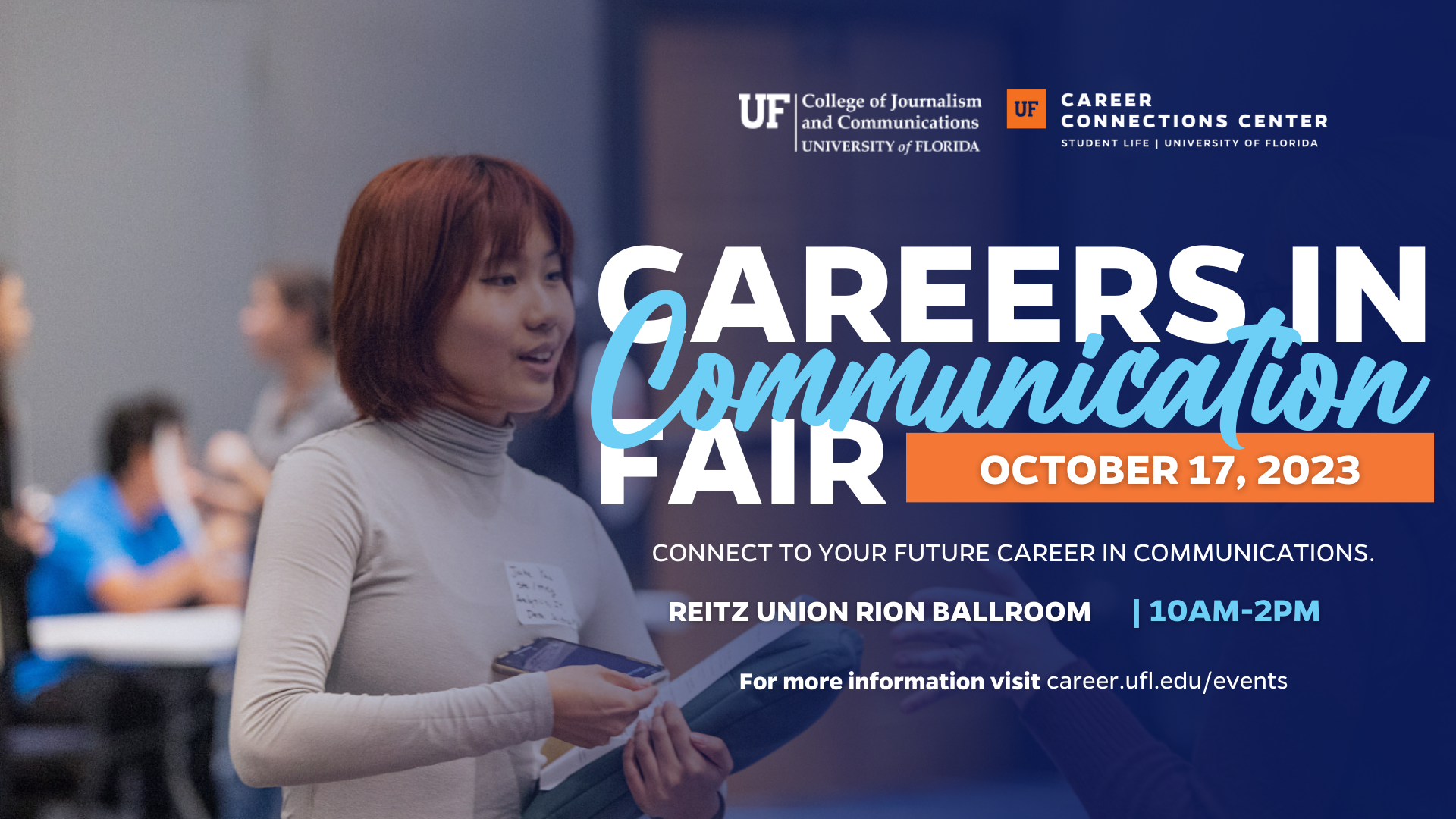 Students and alumni interested in internships and job opportunities related to advertising, journalism, public relations, media production, management, and technology, and related communications industries are invited to the Careers in Communication Fair – Fall 2023.
Event Details
Event type: In-person career fair
Date: Tuesday, October 17, 10 a.m. – 2 p.m.
Location: Rion Ballroom at the Reitz Union, University of Florida
Companies Attending: View Full List
Planning to attend? RSVP and Upload a Resume!
Please RSVP for the fair and share a copy of your resume. Employers will review student resumes and may contact you to share opportunities before or after the fair!
Here's how to share a copy of your resume:
After RSVPing for the fair, navigate to Documents > My Documents in the menu on the left side of the screen.
Select Add New.
Enter your document's title, select Resume as the document type, and upload the file (PDF files work best).
Preview and Prepare for the Fair – Resources
Learn about how to prepare for the Careers in Communication Fair and hear from a participating employer what they look for in candidates they meet.
Zoom recording

Note: The slideshow was not recorded in Zoom, so you will need to open the PowerPoint and follow along if you would like to review the recording.
Recommended Attire
Business professional or business casual attire is recommended at the fair. If you need professional attire, the Molm Family Gator Career Closet offers free clothing items to help you look your best during the career fair. For more details please visit career.ufl.edu/closet.
Accessibility
If you are an individual with a disability and anticipate needing accommodations for the fair, please contact CCCCareerFairs@ufsa.ufl.edu at least 72 hours prior to the event.
Questions about the Careers in Communication Fair?
Please contact the Career Event Staff at the UF Career Connections Center: