Careers in Communication Fair: Student Information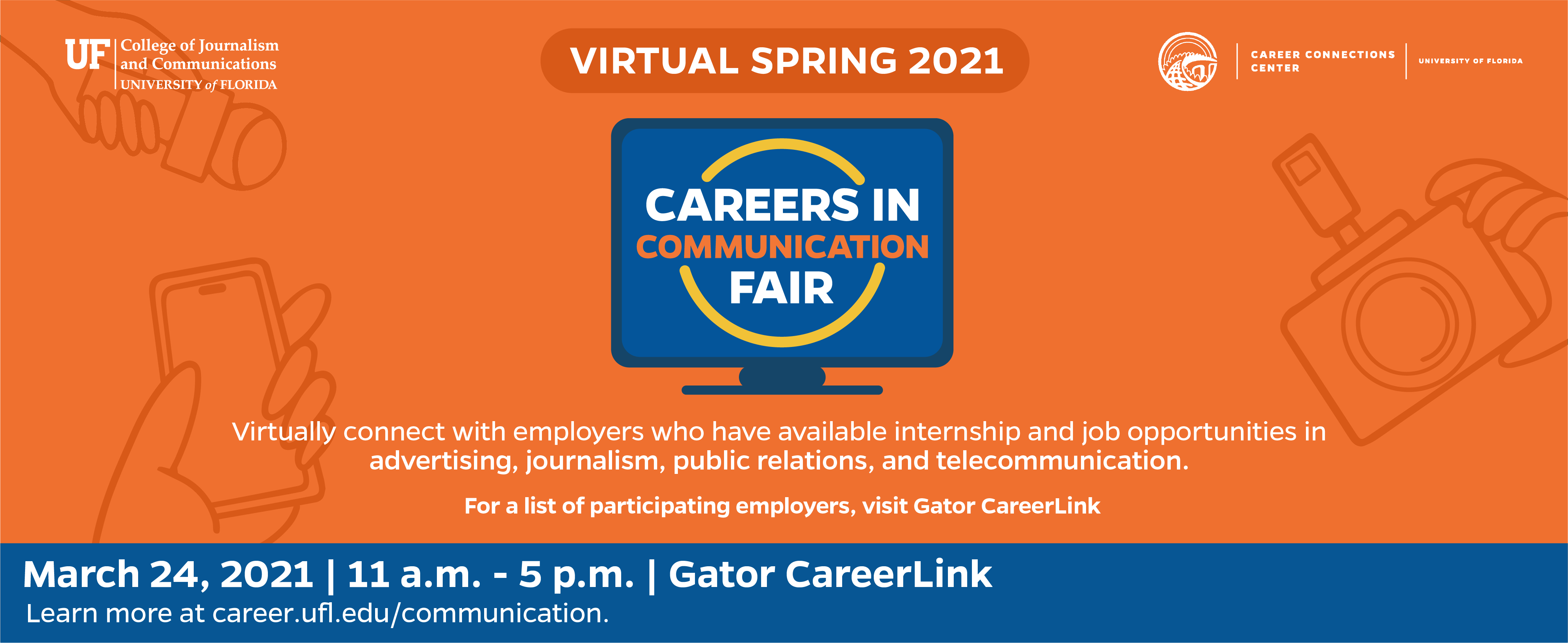 Careers in Communication Fair
March 24, 2021
Virtual via Gator CareerLink
11 a.m. – 5 p.m.
About the Careers in Communication Fair:
The Careers in Communication Fair gives students from all majors interested in a career in journalism or communications the opportunity to meet with participating companies for potential internships and jobs.
Register: https://ufl-csm.symplicity.com/events/cicf_sp21
During the fair, students and alumni can meet with employers 1-on-1 to build their network and learn about opportunities or attend group info sessions/chats to learn more about the companies attending. Before the fair, attendees can also apply for open positions and schedule interviews with employers.
This event is open to UF Students and Alumni only. For further questions, contact David Adams, CJC Career Coach, at dadams@ufsa.ufl.edu or 352-294-2045.
Participating Companies & Opportunities
CBS4 News
The Dalton Agency
Hearst Magazines
Spectrum Networks
TEGNA

1-on-1 chats
Interviews
Info Session

The Miami Herald
UF Center for European Studies
UF Health Communications
UF International Center
WESH-TV
WJXT Channel 4
WUFT/WRUF
Attendees can also view the list of participating employers on the main event page or log in to Gator CareerLink.
Interview Opportunities
Click the links below to apply for jobs and internships for which you can interview during the fair. If you are selected for an interview, you will receive an email with instructions on how to sign up for an interview slot.
UF Center for European Studies
UF International Center
Check back frequently for new opportunities!
Preparation Events
To help you prepare for the Careers in Communication Fair, you can participate in several workshops leading up to the fair!
We are also hosting drop-in hours for any last-minute questions or tips before the fair. Come any time – no appointment needed!
Headshots and Professional Attire
The Molm Family Gator Career Closet offers free professional headshots and attire, to help you look your best during the career fair. For more details please visit, career.ufl.edu/closet.
Accessibility
If you are an individual with a disability and anticipate needing accommodations for the fair, please contact CCCCareerFairs@ufsa.ufl.edu at least 72 hours prior to the event.