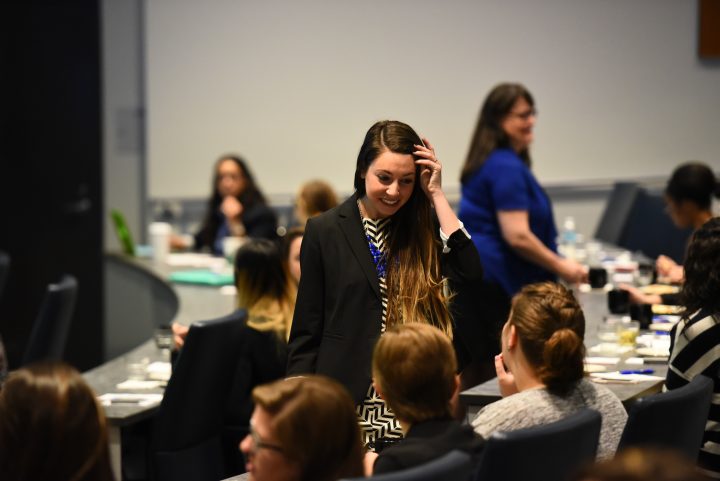 Transfers
The Department of Public Relations is a limited access program. It currently has an enrollment cap of 500 juniors and seniors. Students already enrolled at the University of Florida who want to change their major to public relations or to add public relations as a second major must apply for admission. All applications will be considered on a space-available basis. Admission is highly competitive.
Review Period
Applications will be reviewed only three times a year – once each fall, spring and summer. During the semester/session of review, students applying for admission are encouraged to take PUR 3000—Principles of Public Relations, if they have not already done so. Earning a "C" or better in the course is a prerequisite for subsequent courses in the major. Prerequisites will not be waived to allow students to take other public relations courses during the review period.
Requirements
Public relations, as do all majors in the College of Journalism and Communications, require a minimum UF GPA of 3.0 for admission (see other requirements in the undergraduate catalog). Students must have strong writing and critical-thinking skills. Students who already have completed 45 or more credits are advised that changing to or adding a public relations major likely will require them to extend their time of study to obtain a bachelor's degree by one or more semesters due to the major's curriculum, which is structured by prerequisites and takes five or more semesters to complete. Due to limited space, applications from students with 90 or more credits cannot be reviewed at this time.
Procedure
Students must submit (hand-delivered or by USPS) the following documents to Dr. Marcia DiStaso, Chair of the Department of Public Relations:
Completed Application for Admission Form
Current UF transcript, downloaded and printed
Business letter—in appropriate format and style—stating your reasons for changing to/adding public relations as your major and career aspirations
One-page résumé outlining your education, work experience (paid and unpaid), extracurricular activities, honors, and special skills
One-page essay summarizing important points of one full article in latest issue of Public Relations Strategist available in the Library West. You should include two direct quotes with corresponding page numbers.
Deadline
ALL documents constituting the application must be submitted one month prior to Advance Registration for the next semester/session. Standard deadline dates are the first Friday in October, first Friday in February, and first Friday in June.
Decisions
A faculty committee, headed by the department chair, reviews applications usually within two weeks following the deadline. Decisions are based on numerous factors, including the applicant's writing ability, understanding of public relations as an organizational function, past academic performance, number of completed credit hours (more than 60 hours usually means a prolonged college career to fulfill the major's requirements), and the department's current enrollment.
The department's decision is relayed to applicants in time for Advance Registration for the next semester/session.
Questions should be directed to Dr. DiStaso.
Students with fewer than 59 credit hours who are on track for the major and have the minimum 3.0 GPA are exempt from this policy.  They may change their major to public relations by requesting the change to staff in the College of Journalism and Communications' Office of Student Services (Weimer 1000).