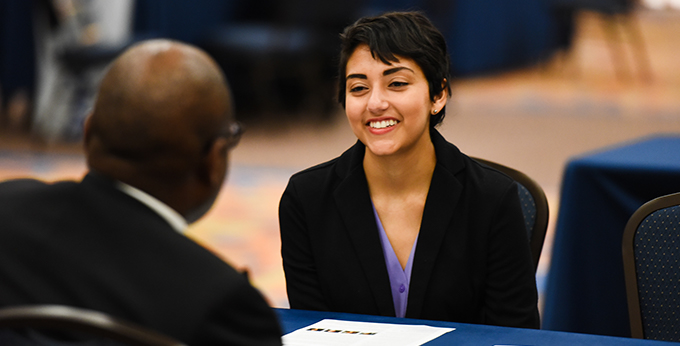 Career Day
Join Us Wednesday, Oct. 16, 2019, from 10 a.m. to 2 p.m. for the Careers in Communication Fair
From 10 a.m. to 2 p.m. on Wednesday, Oct. 16, 2019, employers will be on hand at the Reitz Union Grand Ballroom to recruit for journalism and communications- related full- and part-time jobs, internships, volunteer opportunities and more. This is a free event for all students and registration for meeting with employers who are tabling is not necessary.
Employers are currently registering for the fair. To view the list of current employers who will be attending the fair, please visit career.ufl.edu and log into your Gator CareerLink account. The login page can be found on the upper right hand side of the career webpage. Once logged in, you can find information for the Careers in Communication Fair by clicking "Career Fairs" located beneath the "Events" section on the left side of the page.
For those students who would like to request a pre-scheduled interview, the deadline to upload your resume and select via Gator CareerLink employers you would like to meet with is Oct. 11, 2019. Employers will contact you individually to schedule an interview. All pre-scheduled interviews will take place between 9 a.m. and 4 p.m. on Wednesday, Oct. 16.
Questions? Please email Jaysen Williams at jwilliams@ufsa.ufl.edu