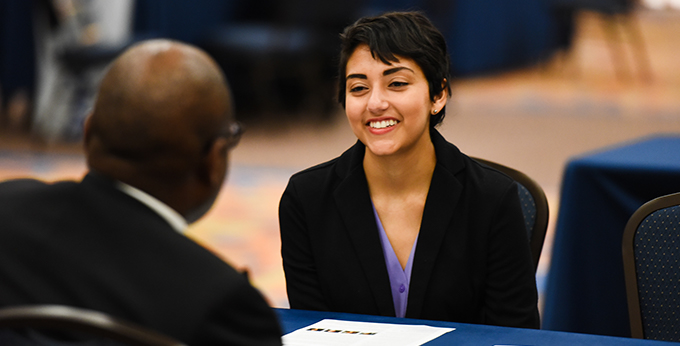 Career Day
Spring 2019 CJC Career Day
Wednesday, March 20, 2019, 9 a.m. – 4 p.m.
Reitz Union Grand Ballroom
Registration
Student registration opens on January 7, 2019.
Employer Registration / Sign In
Deadline for employers to register for a pre-scheduled interview table: Thursday, February 28, 2019 at 11:59 p.m.
CJC Career Day gives students from all majors within the College an opportunity to meet with participating companies for potential internships and jobs. Students may register in advance to request interviews with employers, and/or visit open information tables for employers the day of the event.
Participating Employers
Prescheduled Interviews
Prescheduled Interviews and Open Table
Open Table
For more information about the event, contact:
Alexandria Wilkerson
Program Assistant
1060 Weimer Hall
PO Box 118400
Gainesville, FL 32611
Phone: 352-392-0289
Fax: 352-846-2484
E-mail: pwilkerson@jou.ufl.edu