UFCJC Alumna Named 2023 Shorenstein Center Documentary Film Fellow
University of Florida College of Journalism and Communications alumna Jacqueline Olive, M.A.M.C. 2007, has been named to the inaugural Harvard Kennedy School Shorenstein Center on Media, Politics and Public Policy 2023 Documentary Film Fellows class. Olive is an independent filmmaker with nearly 20 years of experience in journalism and film.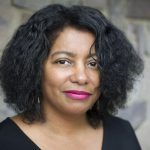 The first cohort is under the auspices of the center's newly established Documentary Film in the Public Interest Initiative, which will examine the challenges facing the field and their impacts on civic life and information through research, convenings and events. The fellows will join the center for the fall 2023 semester to conduct research and work on public education activities about questions facing the documentary film field and civic information.
As one of only five documentary film fellows, Olive will examine the new documentary distribution landscape that has reshaped the industry with the surge of on-demand content for streaming that began in 2020. Her project will provide analytical research and case studies mapping a quickly transforming documentary film industry.
Olive's award-winning documentary repertoire includes her debut film, "Always in Season," which received numerous honors including winner of the 2019 Sundance Festival Special Jury Prize for Moral Urgency and nominations for Best Writing from IDA Documentary Awards (2019) and Cinema Eye Honors (2019). It was broadcast on "Independent Lens" on PBS in 2020 and was the highest rated film of the season. Her film "Death is Our Business" was broadcast on PBS' "FRONTLINE" and the WORLD Channel in 2021 and she was the executive producer and director of "Lincoln's Dilemma," an Emmy-nominated four-part Apple TV series (2023).
Olive shared her experiences and advice with CJC students in 2020 as part of the College's Great Storyteller series.
Posted: September 19, 2023
Category: Alumni News, College News
Tagged as: 2023 Shorenstein Docmentary Film Fellows, Always in Season, Death is Our Business, Jacqueline Olive, Lincoln's Delemma, Sundance Film Festival