College Football Writer Reflects on How CJC Helped Prepare Him for a Successful Career
By Hannah Darroch, Master of Arts in Mass Communications student, Reighan Sheppard, Journalism Sports and Media senior, Manuel Uribe, Advertising senior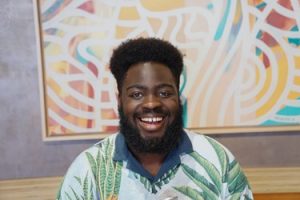 University of Florida College of Journalism and Communications (UFCJC) alumnus Richard Johnson's radiant smile lights up any room he walks into. His exuberant personality cascades through his work as a college football writer, television analyst, and podcaster.
Johnson, B.S. Telecommunication 2015, showcases his multimedia talents in his work with Sports Illustrated and his podcast "Split Zone Duo." And his contribution to college football hasn't gone unnoticed, earning him national acclaim, appearances on the SEC Network and even a journalism award that recognizes his talent and influence in the industry.
Video: Get to Know Richard
Johnson was extremely involved during his time at UF, building toward his dream career in sports journalism. "This is the only thing I've ever wanted to do," he said. "The sport runs in the blood."
In Gainesville, Johnson covered golf and football for The Independent Florida Alligator, wrote for GatorCountry.com, and worked as a UF football correspondent for The Florida Times-Union. He knows these opportunities while at UFCJC helped get him to where he is today.
Collegiate Experience
Johnson looks back fondly on his treasured memories at the student newspaper. "Working for The Alligator was incredible," he said. "There's nothing like it if you want to get into writing."
The opportunities provided at CJC help prepare students, like Johnson, for a media career. The connections he made and the hands-on experience he gained in Weimer Hall are unlike any other.
"You can't do some of those things at other schools," Johnson said. "You can't do some of those things in other journalism programs."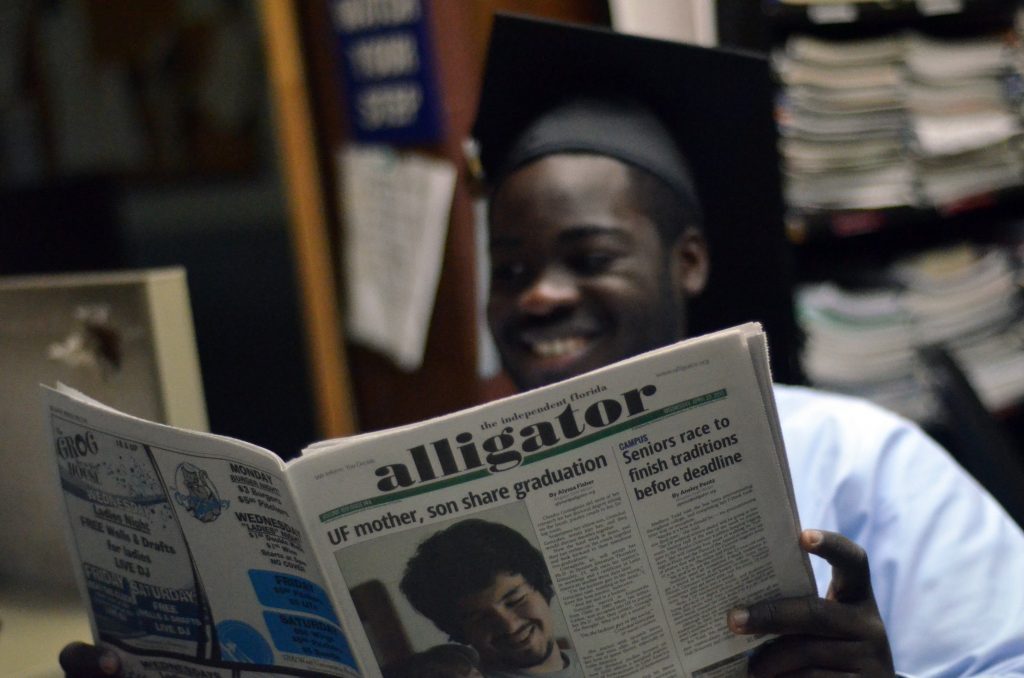 In his 2015 farewell article for The Alligator, Johnson discussed once quitting the student newspaper, and he still reflects on that decision almost a decade later.
"When I first started at the Alligator, I thought I was too big for it," Johnson said. "At the time, I was covering football for a recruiting website, Gator Country. I didn't understand the value of what the Alligator was. I didn't understand the value of the journalism that we were doing at the time at that age."
When he returned as an assistant sports editor, that's when it all really clicked.
"The Alligator is special, these pages are special," he said. "The opportunity to do this is really, really unique because of the people who have done it before and hopefully will come after trying to leave a legacy here."
Johnson emphasizes how important it is to gain those experiences. Experiences one would be hard-pressed to find somewhere else.
Professional Career
Johnson started his professional career at ESPN in Bristol, Connecticut, right out of college, a job he landed partly thanks to ESPN.com writer Andrea Adelson, B.S. Journalism 1999, who worked at The Alligator during college.
Adelson first met Johnson when he was a student at UF. "What struck me right away was how engaging, curious and passionate he was when we talked," she said. "Those three qualities have served him well in his career."
Adelson is very proud of how far Johnson has come and believes he has only scratched the surface of his potential. "Any college football fan is better off following him, reading his stories and listening to his takes because he has the ability to make you think and learn at the same time in a way that sets him apart," she said.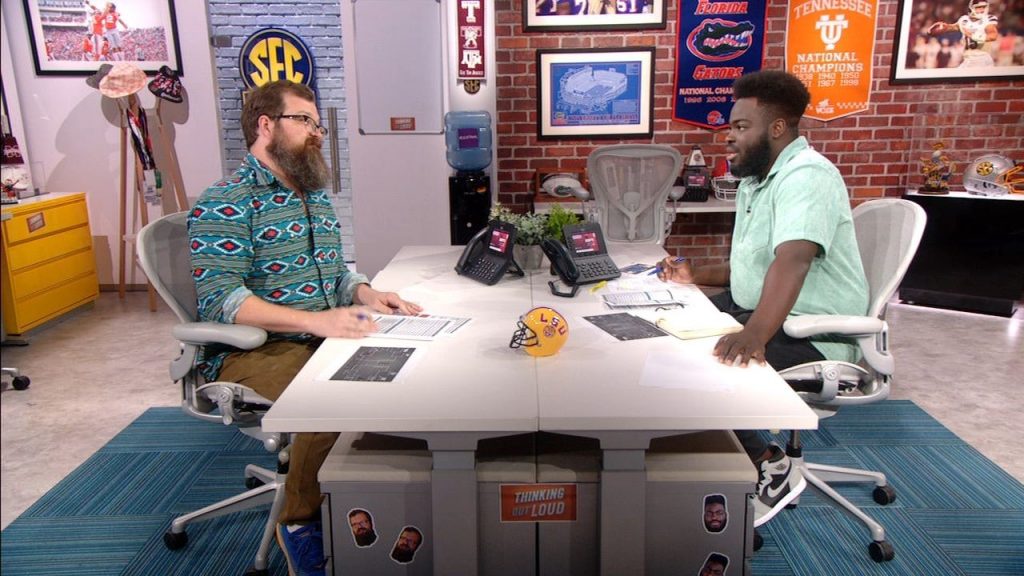 "There are Gators everywhere," Johnson said, adding that making professional connections, and keeping in touch with them, is extremely helpful in a career. Johnson's stellar start at America's biggest sports broadcaster is living proof of that.
After one year in Connecticut, Johnson became a football writer for SB Nation, before joining Sports Illustrated in 2021.
Between all his writing jobs and starting at Sports Illustrated, he launched his podcast Split Zone Duo, hosting it alongside Steven Godfrey and Alex Kirshner. Split Zone Duo, or SZD, is a podcast about everything college football. Airing since September 2020 in the midst of COVID, Split Zone Duo covers the ins-and-outs of the highest division of collegiate football, and not just playoff powerhouses. SZD lives for the interconnected culture of college football, and wants listeners to love it just as much. What he enjoys the most about it is the ownership he gets from it.
 "Understanding that if it all goes away tomorrow, I have something to fall back on that I own, that I co-control (and) that pays. That's huge." 
In 2022, at the age of 29, he was awarded the Edward Aschoff Rising Star Award, given by the Football Writers Association of America. Aschoff, a UFCJC Journalism alum who Johnson knew personally, was an award-winning and highly respected college football journalist at ESPN, who died in 2019 at 34 years old. The College created the Edward Aschoff Memorial Fund in his memory to support sports students with a demonstrated background of commitment to advancing diversity.
The award Johnson received was also created to honor Aschoff's memory. It goes to an outstanding sports journalist under the age of 34. Johnson said being selected by his fellow peers for this prestigious award was incredibly special and one of the greatest accomplishments of his career.
"This is an award that means a ton to me because of what Ed means to the industry," Johnson said. "It's a profound experience, to look at that and understand that in some way, shape or form, you're part of continuing the legacy of somebody who was great at this. And that's one of the things that I really hold dear."
Johnson's Advice
When discussing who has been his biggest professional influence, Johnson says he likes to pick certain aspects and qualities from everyone.
"I like drawing from people who I work with who have done it for an amount of years and picking things out of what they do, molding my game after them." Taking his mentors' strengths, he has shaped his writing to truly be one of a kind.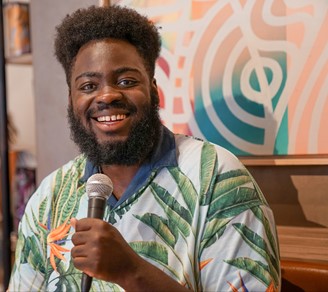 Johnson says the biggest piece of advice he would give to aspiring professionals in this industry is "to prepare to be fired."
"This industry is fickle," he said. "You're going to weather a lot of storms in journalism. You have to have a plan to say, 'Ok, let's say they tell me to kick rocks tomorrow. Who am I going to call?'" That is why he stresses the importance of having connections within the industry. Having five or 10 people to call for quick freelance work is directly based on the network one builds, Johnson says.
On the flip side, he is more positive when asked about the best piece of advice he has ever received.
"It's like the corny thing that everybody gives. Be true to yourself and be honest."
Johnson lives by this advice day after day in his professional career because he thinks being authentic is the most important thing in the industry.  "Audiences know if you are trying to be a cheap replacement of somebody else, if you were trying to imitate somebody else." At the end of the day, he insists, you have to be you. "Be honest with yourself, be honest with audiences and it'll take you places."
Posted: September 14, 2023
Category: Alumni Profiles, College News, Sports, Sports Media Alumni
Tagged as: Richard Johnson