Gator Alumnus Eric Allen Provides the Fuel for Jets Media
By Rebecca Allison, Advertising senior, Sydney Bounnell, Public Relations senior, and Austin Stirling, Journalism junior
In a CJCxNYC and Sports@CJC collaboration,13 CJC students traveled to New York City from July 17 – 22, 2023, to learn about and from sports media professionals. Among other assignments and activities, students met with CJC alumni. This is one of five alumni profiles written during this experience.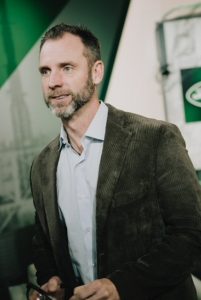 Behind the scenes at 1 Jets Drive, a Gator has made his presence felt throughout the National Football League.
University of Florida College of Journalism and Communications (UFCJC) alumnus Eric Allen, M.A.M.C. 2005, is the vice president of news strategy for the New York Jets, one of the NFL's front runners in producing internal team media content.
Beginning his 23rd season with the Jets, Allen, a longtime senior reporter, manages the team's reporting and broadcasting teams.
Video: A Tour of the Jets Complex
The Journey to Florham Park
Allen attended the UFCJC as a graduate student after earning his bachelor's degree at the University of Maryland. He stresses that his 10 months in Gainesville played a huge role in his professional development. He largely credits UF with placing him in great positions to succeed and flourish in his field.
In 1999, he took the first sports communication course offered by the College at the graduate level. "That was the first of its kind at Florida," he said. "We had like eight people in the class."
Allen had completed 30 of his 36 required credits, but still needed to obtain an intensive internship to graduate. Unsure about his next step, he decided to make the lengthy drive from Florida to his hometown of Buffalo, N.Y. Within days of arriving home, he received a call from the Tampa Bay Buccaneers, who gave him the opportunity to interview for a public relations role with the team. Despite the inconvenient timing, he headed right back to the Sunshine State to begin his NFL career.
Allen's time with the Buccaneers resulted in an impactful relationship with the team's then assistant coach, Herm Edwards. This led to an unexpected connection to the Jets organization when Edwards became the head coach of the New York team in 2001.
That same year, Allen began an interview process for a public relations role with the Jets. While touring the team's facility, Edwards walked up to Allen and said, "What [are] you doing here, babe? Boat ready to set sail, [are] you [going to] be onboard?"
This interaction impressed the Jets' public relations staff and helped Allen's case for the job he eventually landed.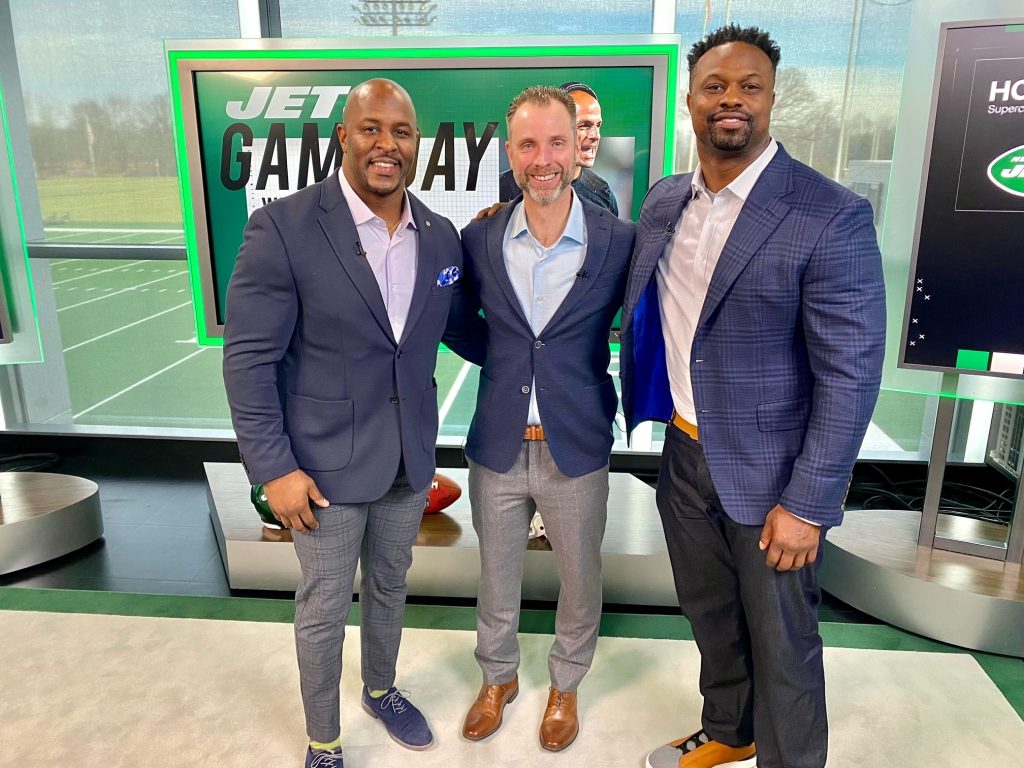 His Current Role
Today, Allen is responsible for the management of relations with external talent such as former Jets players Bart Scott, Nick Mangold, Anthony Becht and Quincy Enunwa in addition to league personalities Brian Baldinger and Cynthia Frelund. He communicates with these personalities' agents and managers to coordinate how to integrate them into team content.
Allen is the host of Jets Gameday with Robert Saleh, which airs Sundays on CBS New York, and the Official Jets Podcast. He hosts and produces the team's live gameday programs, Pregame Central and Jets Overtime. In his role, he sits down with both former and current players, coaches and NFL media reporters to produce content such as interviews, podcast segments or pre- and post-game analysis.
Allen stressed the importance of being a great team player in his line of work. Winning on the field often works in direct correlation with the organization being able to win off the field.
"From an organizational perspective, if we win, everybody wins," he said. "Everything [in life] is attached to winning and losing. Everything."
Professional Mindset and Qualities
A competitive yet supportive environment could be felt throughout the Jets' facility.  The team heavily encourages and uses collaboration within the organization to most effectively push their media strategies forward. With people constantly pushing each other to perform at their best, all divisions work together cohesively and create the best content possible.
"EA is like the captain of our ship," said Caroline Hendershot, host and reporter for the New York Jets, when speaking about Allen. "I feel like we really started to figure out the communication last year."
Hendershot was quick to express her admiration for what Allen provides to the Jets, and other members of his division echoed the sentiment. The consensus among Allen's colleagues was that each of them had been helped, mentored or otherwise affected by his leadership. His work ethic and collaboration skills have helped shape the collective mindset of the team he works with.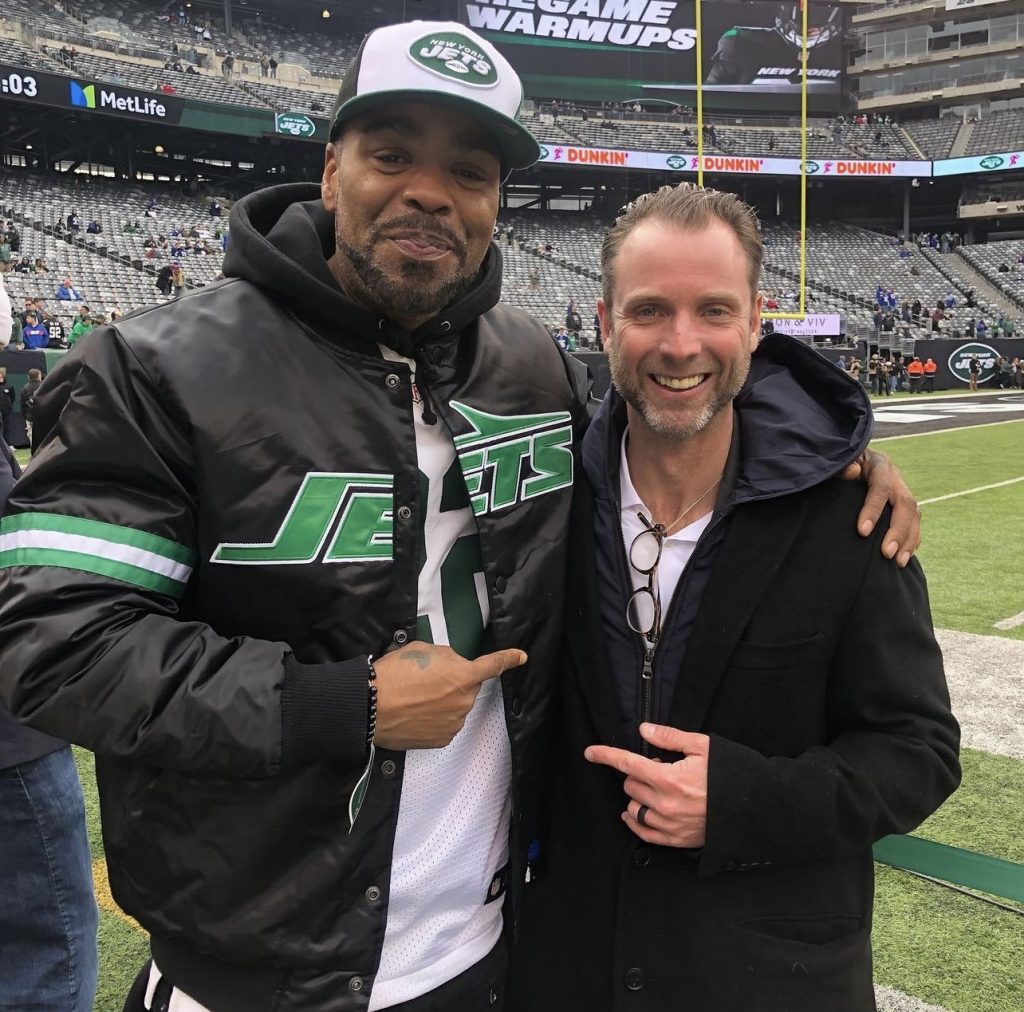 Allen also mentioned that the simple desire to work, and work hard, and work with others were extremely useful traits to being successful in the industry. Quoting a former colleague, he said that what typically stands out when hiring an applicant is a "Ph.D. mentality." Rather than the doctoral degree, Allen uses "phd" to mean poor, hungry and driven, referring to hard workers who have a desperate-like desire to excel in their career. He emphasized the importance of this mindset for anyone with dreams of succeeding in sports media.
Posted: August 20, 2023
Category: Alumni Profiles, College News, Sports, Sports Media Alumni
Tagged as: Eric Allen