From the Swamp to the Big Apple: How a CJC Alumnus Became One of New York City's Top Sports Writers
By Grace Huff, Public Relations senior, and Zackary Weiss, Journalism/Sports and Media senior
 In a CJCxNYC and Sports@CJC collaboration,13 CJC students traveled to New York City from July 17 – 22, 2023, to learn about and from sports media professionals. Among other assignments and activities, students met with CJC alumni. This is one of five alumni profiles written during this experience.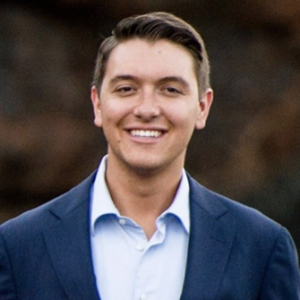 "There's this Jerry Seinfeld quote that I like," said University of Florida College of Journalism and Communications alumnus David Gardner, B.S. Journalism and B.A. Psychology 2011, a freelance sportswriter based in New York City, when asked what his favorite story he's ever written is. "When someone asked [Seinfeld] one time what his favorite episode was, he said it's like asking what your favorite breath of air is: the next one."
After being in the industry for more than a decade, profiling some of the biggest names in sports and seeing his name on bylines for as many world-renowned publications, one can only imagine how difficult it would be to pick out just one story, one feature, one moment, among the rest.
"That was… a really interesting experience," Gardner said, recounting the time he joined former San Antonio Spurs forward Tim Duncan in Christiansted, St. Croix — the childhood home of the 15-time NBA All-Star and five-time NBA champion — in 2017. Gardner joined Duncan on what was his third trip to the U.S. Virgin Islands since Hurricanes Irma and Maria ravaged the islands.
At the time, Gardner was writing for Bleacher Report — a job he earned while he was working as a college basketball writer and editor at Sports Illustrated, a position he held for four years. He spent four more years with Bleacher Report before becoming a freelancer in 2021.
Prior to his original move to New York City to work for Sports Illustrated, Gardner also spent time in San Diego, California, with CBS Interactive as an editor — his first journalism-related job out of college.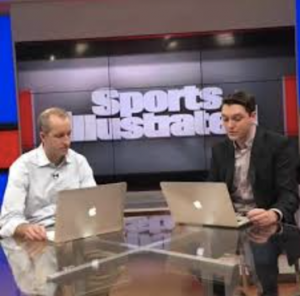 "I've always been a big sports fan and UF fan," Gardner said. " I don't really know why, to this day." From reminiscing on growing up in Tampa to finding his way to Gainesville, to the first step in his professional journey, he thought back to his parents — neither of whom were big sports fans.
"Nobody in my family went to UF," he said. "But I was a kid in the '90s. And it was the Steve Spurrier "fun 'n gun" teams …. It was fun to be a Florida Gators fan."
During his time at UF, Gardner earned two internships — and he credits both as pivotal in his career.
During his time at UF, Gardner had two opportunities to work in professional newsrooms — and he credits both as pivotal in his career. He spent his sophomore year spring break in the St. Petersburg Times' newsroom, working for the week as a correspondent for the features section.
"At the time," he said, "I did something, maybe the nerdiest thing I've ever done in my life. I called the woman who was an editor there, and I asked her if I could come shadow with them during spring break. So, I sacrificed one of my spring breaks to go into a newsroom."
The following summer, between his junior and senior year, he took a major step forward, traveling 2,500 miles across the country to Santa Monica, California, to spend three months as a paid intern with Yahoo! Sports.
"It was amazing," he said. "They had a rotating internship. I started on their news desk … helping with some of the section coverage, editing stories, writing headlines, selecting photos. Eventually, I moved into working with their reporters."
He parlayed a UF degree and two top-flight internships into jobs with some of the most prominent outlets in sports journalism, and then to publishing freelance stories in The New York Times, The Washington Post, The Ringer, GQ and more.
But things are different now. He advises today's students — those roaming the same streets, sitting in the same classrooms, holding the same career aspirations he once did — to be comfortable being uncomfortable.
"When I came out of school, there was an obvious path," he said. "Cover high school sports at the local newspaper. Then try to get on one of the top pro sports beats or college beats. Then try to get to a regional paper. Then try to get to a national outlet. That's not the path that I took, but that was a well-established path." Now, he says, it's a whole new world.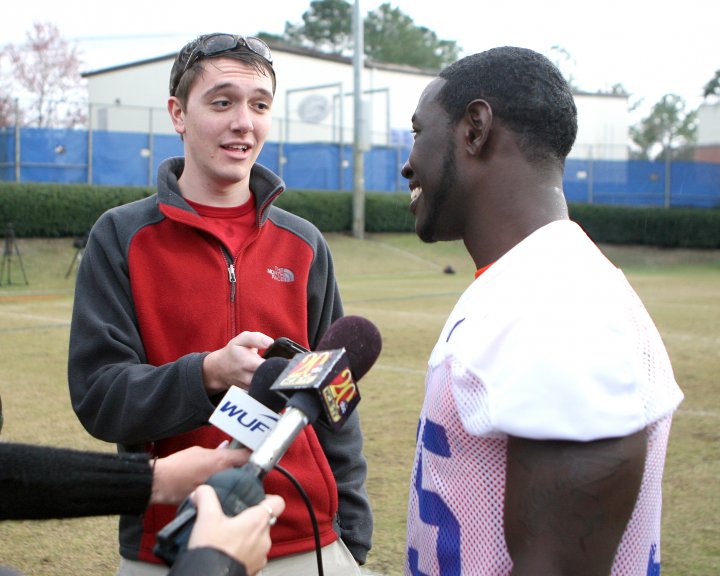 "I don't think it's necessarily as clear anymore," Gardner explained. "I think what I would probably try to do if I were in [their] shoes … is try to work for a newsroom where you get a lot of creative freedom. I'd make a lot of contacts in the industry. Try to develop as many [connections] as possible, consistently."
With the rise of social media and the reality of ever-growing competition throughout the industry, Gardner believes it's important to distinguish yourself from the rest.
"Think about consistency, creativity, volume," he said. "You know, especially when you're young and you have the energy for it. I would be putting as much as you can across as many different mediums as you can. Evaluating, seeing what works, seeing what has promise and potential going forward."
Nowadays, when Gardner's not chasing stories around the country, sitting across from top athletes conducting interviews or traversing his adopted home in New York City, he's, well, finding time for his own sleep — which is easier said than done with a now-four-month-old daughter in the equation.
"Lilia, and you can put this on the record, is the most adorable human that has ever existed" he declared, with a gradually expanding smile on his face. "That's not me. That's our doctors. Our doctors have said that. Consistently."
Posted: August 20, 2023
Category: Alumni Profiles, College News, Sports, Sports Media Alumni
Tagged as: David Gardner