CJC Alumna Lainey Johnson Shares Insights on "Newsjacking"
By Lenore Devore, B.S. Journalism 1984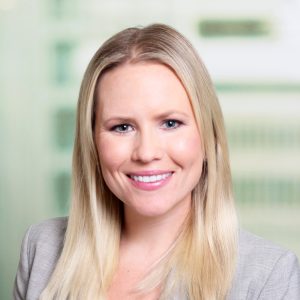 Lainey Johnson, B.S. Public Relations 2008, took classes at the University of Florida College of Journalism and Communications (UFCJC) when advertising, marketing and public relations were taught in silos. As a marketing executive, she's learned the power the three have when used to build brand reputation through strategic messaging.
Johnson, who earned her MBA from the University of Notre Dame, is Ernst & Young's (EY) America's Brand and Media Leader and an adjunct professor at UFCJC teaching PR Campaigns and soon the Agency Essentials course she is developing. She previously worked at McDonald's and at agencies like Hill & Knowlton, where she represented the Denny's brand.
In 2016, she was named an Outstanding Young Alumni at UF. And in 2020, she was named as one of Crain's Chicago Business Notable Executive in Marketing.
At EY, she turns news into knowledge running their brand and paid media. The professional services firm helps business decision makers with their most complex challenges.
When the pandemic hit, EY invested in advertising when few others did, she said. "We can help people, and we can show how we're doing it."
The investment turned into a partnership with CNBC, which Johnson and Mike Rucker, vice president of NBC News' Brand Studio, discussed during a panel on "newsjacking" at  Ragan Communication and PR Daily's Social Media conference in March 2023. Following is a Q&A with Johnson.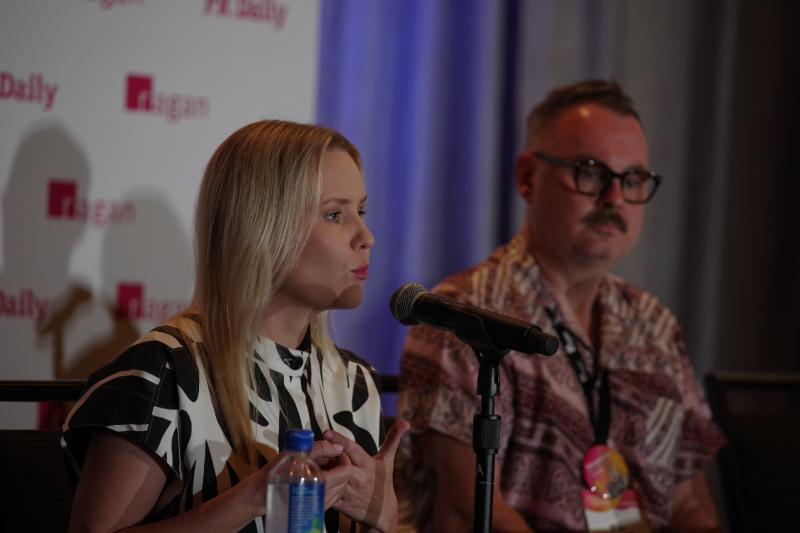 Question: What exactly is newsjacking?
 Johnson: Looking at newsjacking from a PR and marketing perspective, it is using the resources of media combined with the timely and topical issues that exist at that moment to create branded content that engages a targeted audience.
Question: Who is EY's targeted audience?
 Johnson: Largely the C-suite. The issues that are of interest are tax policy, transformation, growth opportunities, resilience. When the issues of the day start surfacing, the ideal scenario is my team is tuned in, we've established a paid relationship with a trusted media partner that can help us tap into the news cycle of the day with a high-production value and an extremely engaged and highly targeted audience to get our messages in front of the right people. It's really tied to the sales cycle. It's a way to both engage prospects but also to engage audiences we need to foster a relationship with.
Question: How do you know if it's successful?
 Johnson: You look at things like video completion rates. If you have everything on a hub of some kind, you look at time there and the bounce rate. Look at traffic to your destination and what people are doing there – filling out lead forms, watching other content or dropping off. The goal is to get them to spend time there, share, consume at a high completion rate and ultimately fill out a lead form.
Question: What are the benefits of newsjacking?
 Johnson: Ultimately, if you can connect to the sales cycle and engage a lead who becomes a client, that turns into revenue. If you can't connect them as a client, another tool might be to negotiate a brand study, then show them: At the beginning of this initiative, the audience saw my brand this way. After seeing this content, they see me differently. You changed their perception of the brand as a result of this work.
Question: How is newsjacking different from traditional advertising/marketing?
Johnson: From a PR standpoint, traditionally, you could have a subject matter expert who can speak about the issue of the day, then pitch it to your media partner. The expert lands on a show or in the newspaper and you hope that organic distribution of that article, TV show or blog is consumed by your audience and has the reach and distribution you want.
By going this route, which is using the best of PR and paid, you're guaranteeing before this even hits that you're getting massive distribution and precise targeting.
Traditional advertising is static ads and basic video. This is highly produced, highly engaging. To a discerning eye it's merging in this realm of PR, which you may not realize is a paid thing. It's different, innovative, effective. The set of Real Time Insights (90-second talks with experts on trending topics that she helped create with CNBC) is very strategic. Notice there's an anchor from CNBC, a news desk – it looks incredibly editorial. The segment sits between editorial content – we bought that space. It's not in traditional ad space.

Question: What role did the pandemic play in the advent of newsjacking?
Johnson: EY is a professional services firm that helps advise some of the largest companies. When the pandemic hit, everyone was facing uncertainty. Our people were in the middle of answering all these questions with the C-suite. We knew we were in a position to advise the business community at large. We decided to put our insights front and center. We filmed our people talking about all the issues that were surfacing every week and had trusted publications help promote our insights. The content clearly resonated. Audiences were spending more time, learning, clicking through and sharing. They were craving our information and we were there to provide it.
Business Interrupted (the precursor of Real Time Insights) was a formula that worked, so we took it to the next level. We also do Leadership in Action with the Wall Street Journal – a longer form master class. CEOs of big companies like Kellogg's talk about stories of transformation, how it split into various brands, or Anheuser-Busch talked about its sustainability efforts. It's from the perspective of leaders, their challenges, and lessons for their peers. We're creating authentic, interesting content with a high-production value that's hyper-targeted.
Question: Who should use it and how should they get started?
 Johnson: You have to make a business case and consider everything. How is it supporting your broader business goal? Who is your targeted audience? Timeframe? Is it connected to a product launch, something bigger? Think strategically. Get a good handle on what budget exists, what should be spent, making sure you have a great relationship with a trusted counselor. When you pitch an idea it's not always fully baked. You need the right media partner who can take your idea to the next level.
 Question: What new class are you developing at CJC?
 Johnson: I'm developing a class for the Advertising Department on Agency Essentials to help prepare students who want to go into an agency. It will include the fundamentals of what they need to think about if they want to go into an agency environment.
Question: What advice do you give your students?
 Johnson: The lines of delineation between advertising, marketing and PR are blending and evolving. What I've learned working as head of brand at EY, and also while working at McDonald's, is the organizations that are doing PR and advertising well – these silos are broken down. We're all working together. PR is working in concert with advertising and marketing. Think about the future with an integrated approach. It's the way the real world operates right now.
Posted: May 10, 2023
Category: Alumni Profiles, College News, Profiles
Tagged as: EY, Lainey Johnson, Newsjacking