CJC Alumna Continues to Reinvent Herself in the World of Sports
By Mindy Nissenberg, CJC M.A.M.C. student, and Lila Greenberg, B.S. Telecommunication 2022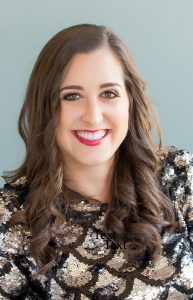 Whitney Holtzman, B.S. Journalism 2010,  has been her own trailblazer, chasing her passions, reinventing herself and carving out unique spaces, knowing that her next big thing may be something she can't predict.
Holtzman is a best-selling author, NFL agent, chief marketing officer for professional athletes, and CEO of Social Victories, a social media and marketing firm she founded. She has worked at many top sports brands, including ESPN, Turner Sports, Tampa Bay Rays, Major League Baseball, VaynerMedia and the Ross Initiative in Sports for Equality. The Tampa native has recently been named one of UF's "Forty Gators Under Forty."
She credits much of her success to her experiences at UF as a journalism major with a concentration in sports management. While at CJC, she reported for WUFT and spent every summer completing internships with some of the most prominent sports media outlets, including ESPN and Turner Sports. "[At UF] I felt like I had found a place that supported me for exactly who I was. I loved UF and UF loved me back."
Holtzman's summer internship at ESPN launched her postgraduate career. As an intern, she was encouraged to contribute ideas. Holtzman wrote to the eventual president of ESPN. She landed a meeting and, ultimately, a position to help launch espnW, the network's initiative to showcase women in the sports world.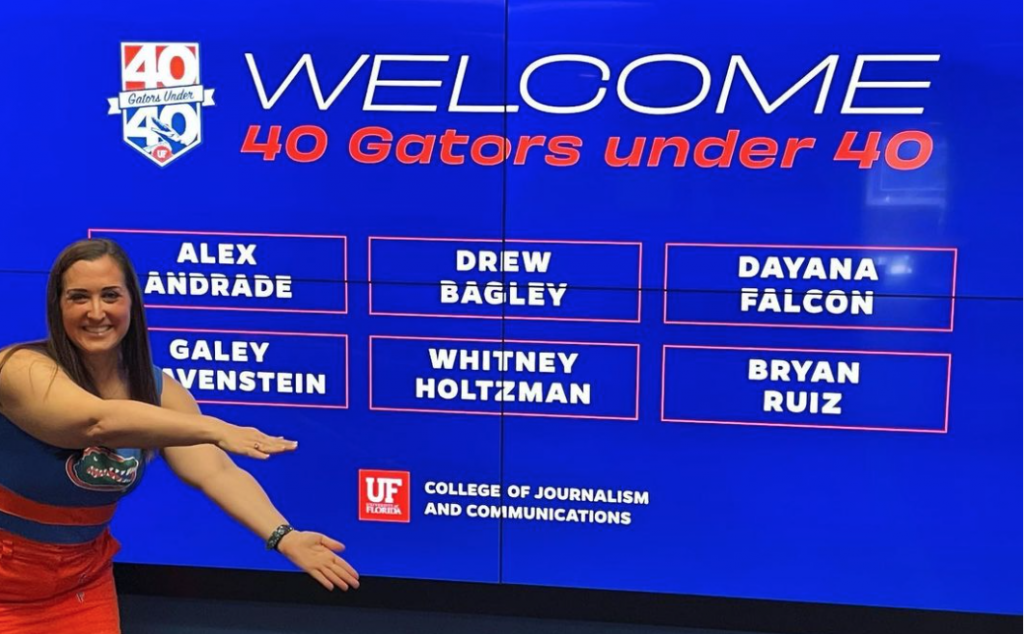 "People have always said to me, you must work in a small market, and then a little bit larger, and 20 years later, maybe you'll end up at ESPN. And it was the first moment in that meeting I realized that you can create your own path."
After two years of writing and reporting for espnW, Holtzman came across a job posting that piqued her interest: social media producer for Major League Baseball. Social media as a career was still in its infancy, and Holtzman could have never imagined how fun a job could be. After two years of working a late-night schedule, Holtzman decided it was time to reinvent herself again.
With all these experiences in her arsenal – UF, ESPN, and MLB – she sent yet another email that would catapult her on a new trajectory. While waiting for a flight one day, Holtzman came across a New York Times article about entrepreneur and digital marketing guru Gary Vaynerchuk. "I read about you at Gate D1 at LaGuardia," she wrote in an email to Vaynerchuk. "I need to come and work for you."
He thought so too.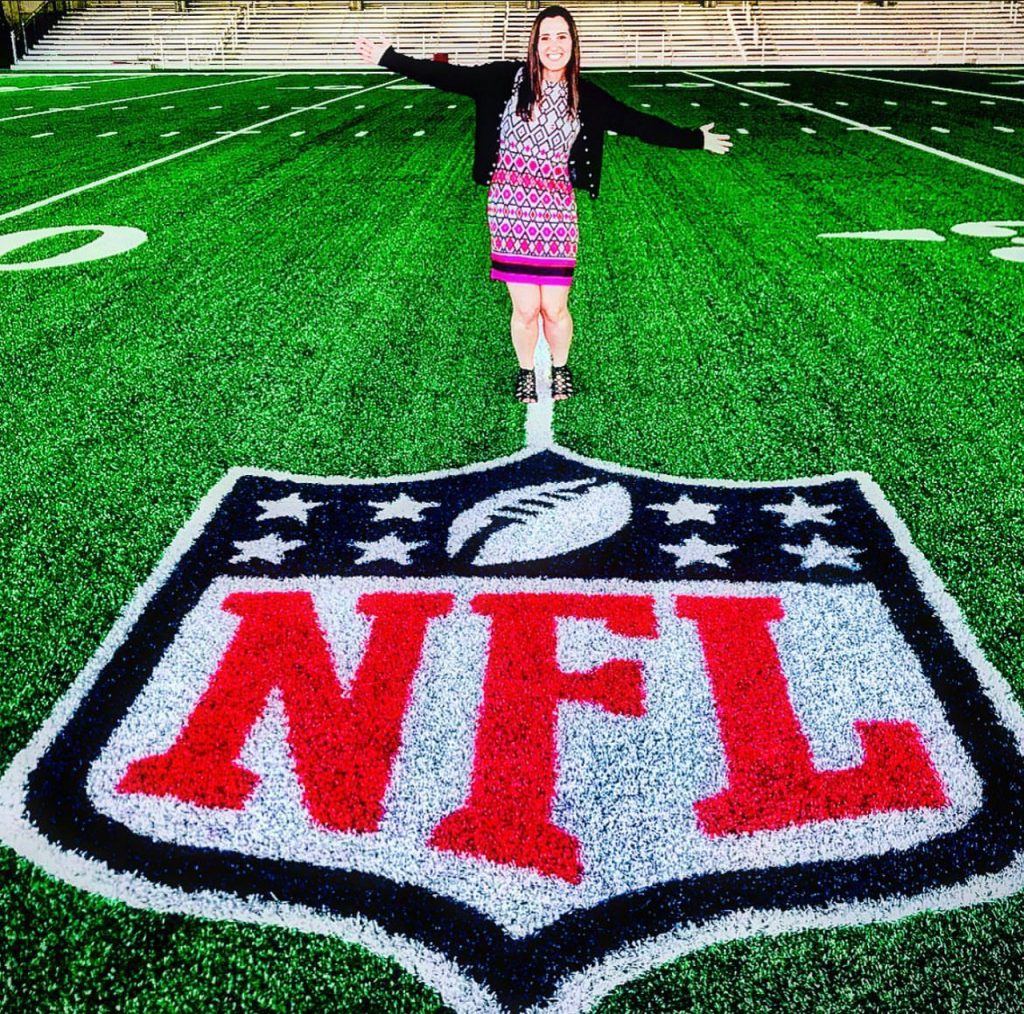 Holtzman worked for VaynerMedia on marketing projects for startups and eventually for the Miami Dolphins and other sports clients. After a couple of years, Holtzman joined Miami Dolphins owner Steve Ross to work for the Ross Initiative in Sports for Equality (RISE), a national nonprofit that educates and empowers the sports community to help eliminate racial discrimination, champion social justice and improve race relations. The organization's board is comprised of commissioners from every major sports league and the head of every major television network. The organization developed a curriculum for high school students on implicit bias and breaking down stereotypes while also spending time together to play sports.
"It was the first time all of the sports leagues had come together for one cause, and my passion is really the intersection of sports and making the world a better place. I love that because I felt like we were creating real change."
Holtzman continued her professional journey in the only way she knew how – to pivot. NFL wide receiver Brandon Marshall was looking for a marketing manager. Holtzman may have been the first chief marketing officer for an individual NFL player. She assisted with his endorsement deals and speaking opportunities and ran marketing for his business and nonprofit. Holtzman's success did not go unrecognized. Other NFL players began to reach out, asking if Holtzman could help them too. Holtzman realized that although these players had agents, no one was proactively assisting players in building their brands and figuring out life outside of football.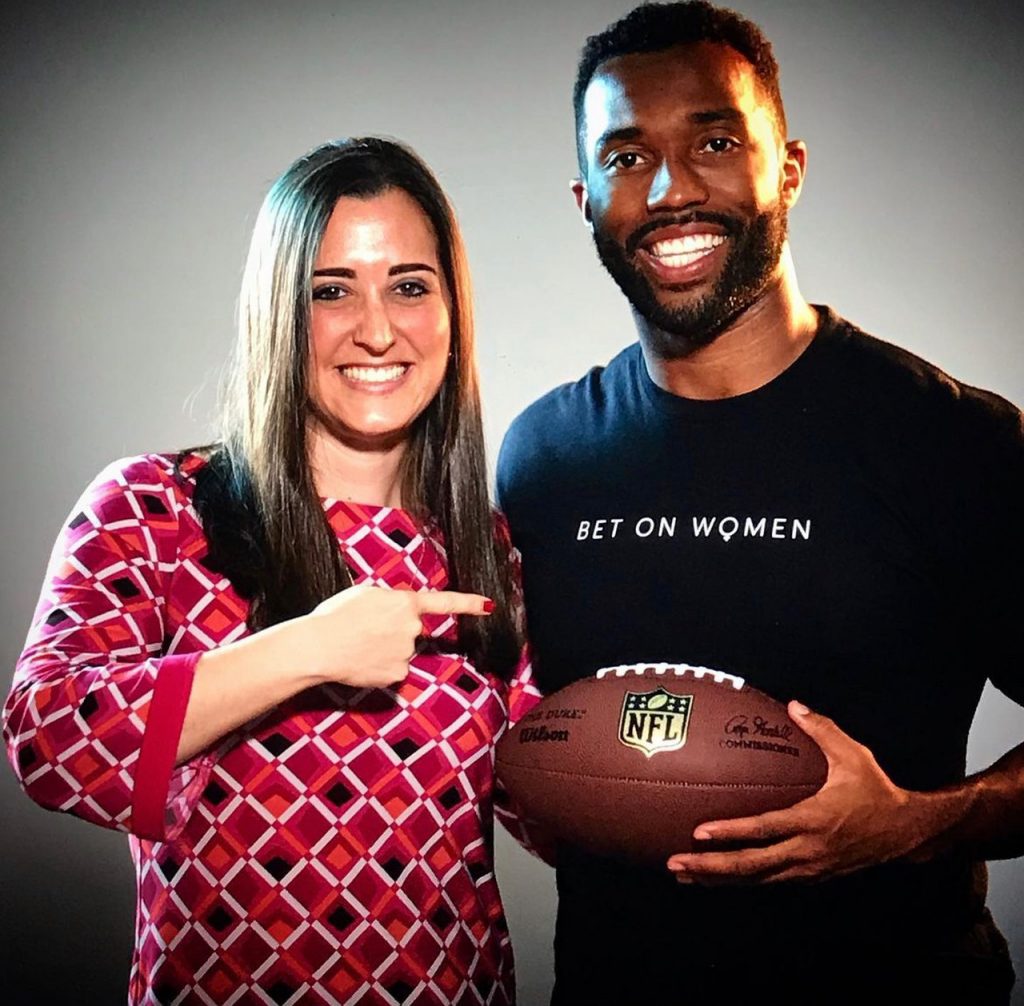 She helped players find their purpose, both within and beyond athletics. She recognized that being a woman in a male-dominated field was not a disadvantage but a superpower. She brought fresh new perspectives on marketing and curated genuine relationships with her clients to ensure that, post-football, they had other ventures they were passionate about and were equipped with the necessary tools to succeed.
"They have so many skills, but they are not taught about the business world."
"I feel that my purpose was to help them find their place in the world. It doesn't matter whether it's a person or a company, marketing is just helping an entity become the best version of themselves. No matter your age, your gender, your economic status, your education level, everyone looks up to athletes the same way. So, I think sports are the greatest unifier and have the largest ability to create change in the world," Holtzman said.
Those surrounding Holtzman encouraged her to be an agent. Although she did not have a graduate degree to take the licensing exam, she went an alternative route. There was another little-known way to take the licensing exam by having a decade of marketing experience, which Holtzman did. Her clients wrote letters of support, and Holtzman passed the licensing exam, entering her next endeavor as an NFL agent and founding her own business – Social Victories.
She also wrote a book, "You Are The First You," to share lessons learned throughout her professional journey that help discover one's life purpose.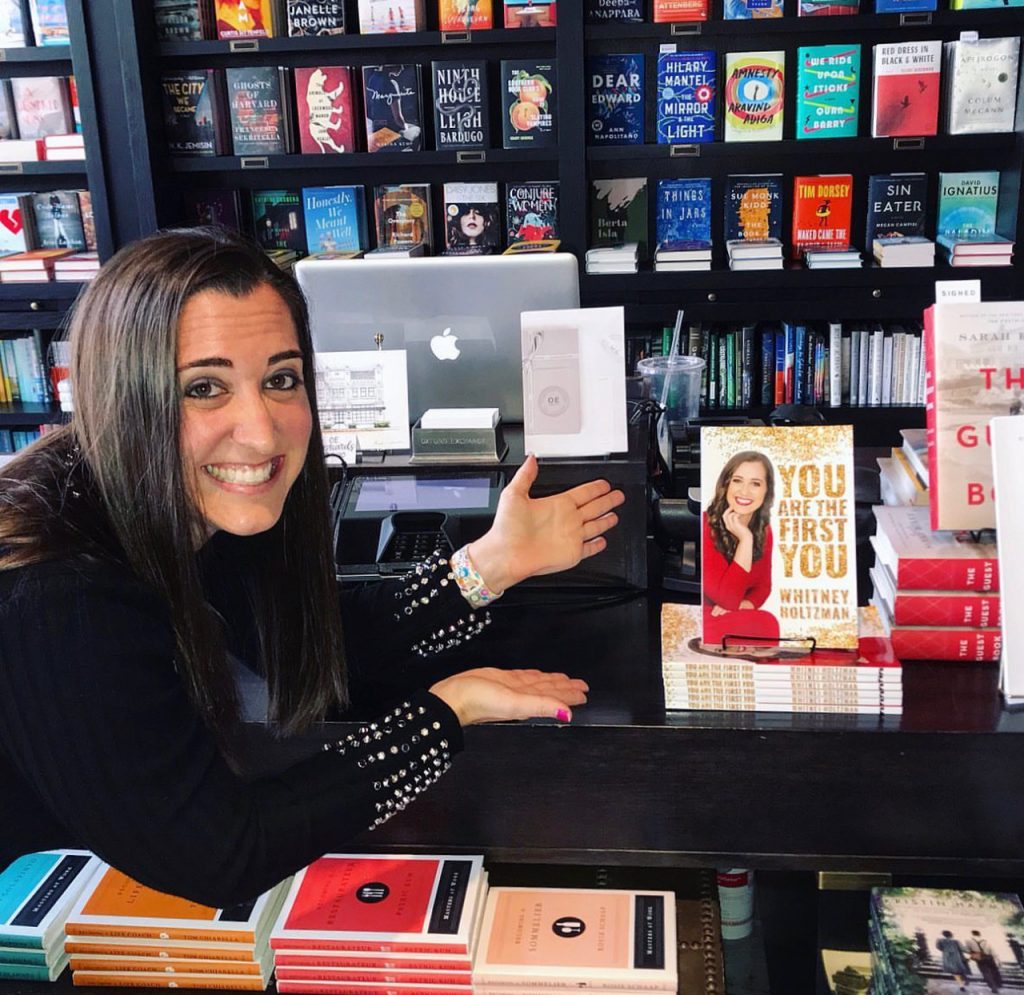 What makes Holtzman the proudest is opening the door for women in the sports industry. She recently signed her first female athlete, Olympic gold medalist Ashley Caldwell.
"I'm very much trying to create my own path and I'm very passionate about helping other women do that as well. Because I think it's just naturally a lot harder, and there's a bigger hill to climb," Holtzman said.  "They know it's possible for them and know that someone else can do something because of what I went through first. We're able to give people hope or change lives; that is the best gift to me."
"I am the most proud of helping people find their place in the world, showing my clients what's possible, and creating space for women in the sports industry."
Holtzman's advice for current students and young professionals hoping to make their mark on the sports industry: "Keep following your heart. When I went to UF, that was the first time in an education setting I was really happy and supported for being the person that I was. And it taught me that that's possible and not to settle for less than that in the world.
"Have a North Star and go after it with your whole being, but be open to what comes your way along the journey," Holtzman said. "I tell kids in college that my social media job at MLB didn't exist when I was in college. Maybe your job hasn't been invented yet!
"When you're at UF, you have every tool and every person at your disposal, and you are sort of the center of the universe for anything you want to do. Take advantage of that."
Her other advice for professionals embarking on their careers includes:
Leave things better than you found them.
Don't cut corners.
Sometimes, you're the one you've been waiting for.
Be relentless until there's not a solution left.
Find a boss who sees the world the same way you do.
As for her future, Holtzman said, "I hope that in the sports world that I've been able to really impact the greatest number of lives and then also through that, really be able to impact lives in the world and the community."
Posted: April 22, 2023
Category: Alumni Profiles, College News, Profiles
Tagged as: ESPN, Nfl, Turner Sports, Whitney Holtzman