Scholarship Available to Attend the Media Sales Institute!
If you are seeking a way to jump start your career after graduation, and are interested in Media Sales, this program may be an excellent option for you. It is one that has helped some of our students with great potential, but a little less job experience or professional network strength.  Our past referrals have gone on to be super stars in the program, securing multiple job offers and receiving promotions during their first year!  Several have been featured on their website.
Because of our track record, they always guarantee me several scholarships to the program, making the program completely free (housing/meals/training materials/career fair).  When other schools don't fill their slots, they often offer me additional scholarship funding for UF CJC students.  The program includes a certification in Media Sales, as well as a job fair that has an over 90% job placement rate for program completers. All of the UF participants since 2016 have received full time job offers, and most received multiple offers!
The institute itself is scheduled for June 5-15, in Atlanta, Georgia. For more details on the scholarship and program, watch this 5-minute video.
Here are some of the companies that have recruited from this program:
| | | |
| --- | --- | --- |
| ABC | Beasley Radio | BET |
| CBS | Clear Channel | Comcast Spotlight |
| Cox Media Group | Cumulus | ESPN |
| Fox | Gannett Co. | Gray Television |
| Hearst Television | KATZ Media Group | Marc Radio Group |
| Morris Communication | New York Times Company | New England Sports Network |
| Neilsen Research Company | NBC | Petry Media |
| Radio One | Sinclair Broadcast Group | Spectrum Reach |
You may be a great candidate if:
You will graduate during the Spring 2023 semester or if you have already graduated
You are open to career opportunities in various cities/states across the country
Are interested in media sales careers
*Proof of COVID vaccination will be required prior to start of program.
Please forward your resume to Katrice Graham at KGraham@jou.ufl.edu if you are interested!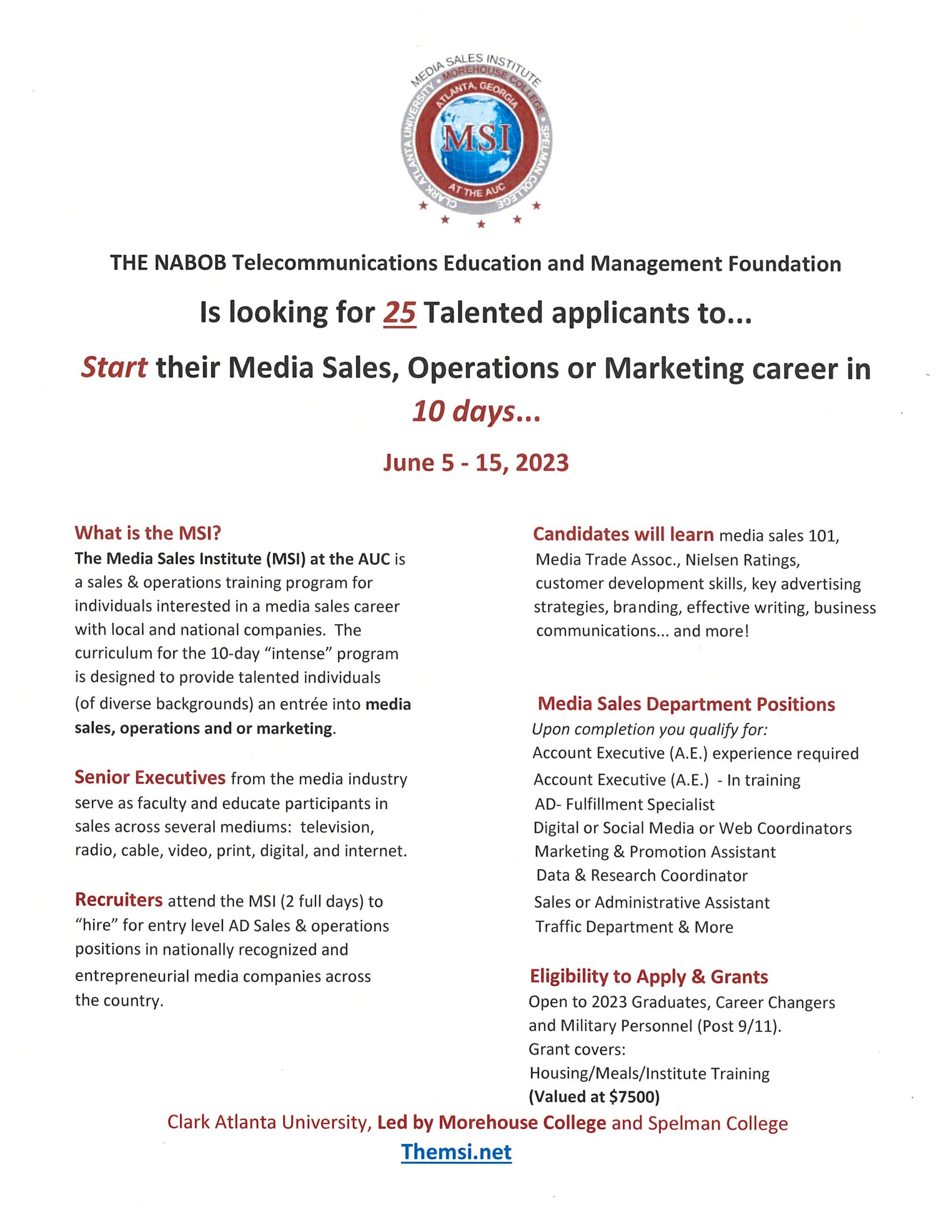 Posted: February 28, 2023
Category: Careers, Student News