CJC Alum Michael Connelly Wins 2023 Mystery Writers of America Grand Masters Award
Michael Connelly, B.S. Journalism 1980 and Hall of Fame 2003, is one of two recipients of the 2023 Mystery Writers of America (MWA) Grand Masters Award. The award represents the pinnacle of lifetime achievement in mystery writing and was established to acknowledge important contributions to the genre.
Connelly is the bestselling author of 37 novels and one work of non-fiction. Collectively, his books have sold more than 80 million copies worldwide and have been translated into 45 languages. His very first novel, "The Black Echo," won the prestigious MWA Edgar Award for Best First Novel in 1992.
In addition, Connelly is the executive producer of seven seasons of  Bosch, the Amazon Studios original drama series based on his bestselling character Harry Bosch. A spinoff series, Bosch:Legacy, debuted in 2021.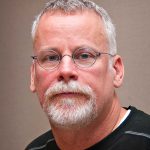 Before he became an author, Connelly worked as a journalist at newspapers in Florida and California specializing in the crime beat. In 2018, Connelly and his wife Linda provided the funding for a lecturer in Narrative Nonfiction position in the University of Florida College of Journalism and Communications.
The AWA Edgar Allen Poe Awards, known as the Edgars, were named after American writer Edgar Allen Poe, a pioneer in the genre. They honor the best in mystery fiction, non-fiction, television, and the theater. The 77th Annual Edgar Awards Ceremony will be on April 27 in New York City.
Posted: January 18, 2023
Category: Alumni News, College News
Tagged as: 2023 MWA Grand Masters Award, Michael Connelly, Mystery Writers of America