Study: Internal Communication Can Help Strengthen Employee Engagement
A new study has found that internal communication can help strengthen employee organizational engagement. The findings by Linjuan Rita Men, University of Florida College of Journalism and Communications Public Relations professor and director of Internal Communication Research, and Ana Tkalac Verčič were featured in "Redefining the Link Between Internal Communication and Employee Engagement" published in Public Relations Review, Volume 49, Issue 1, March 2023.
The authors used integrated social exchange theory and the theory of job demands-resources to examine how internal communication affects employee engagement.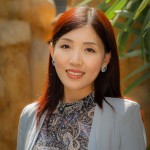 According to the authors, "A survey of 3,457 employees in Croatian organizations showed that internal communication satisfaction positively influenced employee engagement, and that this influence was mediated by employer attractiveness and, to a much smaller extent, perceived organizational support."
They add, "Results of this study highlight the need to think 'outside the box' in order to understand the extensive, complex influence of internal communication on organizations and their employees. Our study demonstrates the importance of thoroughly understanding employee attitudes in order to manage their satisfaction and engagement."
Posted: December 14, 2022
Category: College News
Tagged as: International Research, Linjuan Rita Men, Public Relations Review