Celeste Wagner is the Featured Presenter for NU Center for Latinx Digital Media Virtual Seminar
Celeste Wagner, University of Florida College of Journalism and Communications Journalism assistant professor, will be the featured speaker for a Northwestern University's Center for Latinx Digital Media virtual seminar. Her presentation, "Feminism, Communication and Social Change in the Americas: A Comparative Analysis of the Argentina of Ni Una Menos and the United States of #MeToo" will be on Dec. 1 at noon.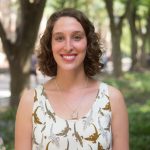 Wagner will speak about Ni Una Menos, a fourth-wave grassroots feminist movement that began in Argentina, and the #MeToo movement in the U.S. She will explore how feminist activists and general audiences in both countries evaluate and transform communication of sexual and gender-based violence. She will also analyze how two countries in the Americas— a point of some of the largest anti-violence movements in recent times—are constructing, challenging, and resisting communication for gender equality.
Registration for the one-hour seminar is free and available here.
Posted: November 30, 2022
Category: College News
Tagged as: Celeste Wagner