UFCJC Alumna Named to "Forbes' 30 Under 30 for Media for 2023" List
Caitlin Ostroff, B.S. Journalism 2018, was recently named to the "Forbes' 30 Under 30 for Media for 2023" list. She was recognized for Journalism Mentors, an online organization she co-founded that helps connect aspiring journalists with new internships and job opportunities in the media field and with potential mentors.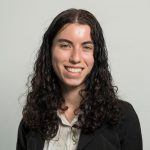 Ostroff is a reporter for the Wall Street Journal London Bureau focusing on cryptocurrencies and crypto companies. With the help of co-founder Adriana Lacy, Harvard University's Nieman Foundation Digital and Audience Engagement editor, Journalism Mentors has connected more than 1,000 early-career journalists with mentors from media outlets including The New York Times, The Wall Street Journal, and The Washington Post.
The annual Forbes' list spotlights 33 young journalists, authors, entrepreneurs and content creators who are driving the world of news and content. All candidates must be under the age of 30 as of Dec. 31, 2022 and never named to a 30 Under 30 list.
Posted: November 29, 2022
Category: Alumni News, College News
Tagged as: Caitlin Ostroff, Forbes' 30 Under 30 Media 2023 List, Journalism Mentors