UFCJC Journalism Student Receives 2022 NATAS National Student Production Award
Kimberly Blum, a University of Florida College of Journalism and Communications Journalism freshman, is the recipient of a 2022 National Academy of Television Arts & Sciences Foundation (NATAS) National Student Production Award in the News Report – Light News category.
"Riley's Red Wagon," produced by Blum and classmates when they were students at Cypress Bay High School in Weston, Florida, was also a winner in the 2022 NATAS Suncoast Chapter Student Production Awards and advanced to the national competition.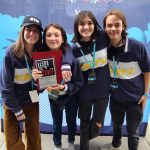 The video was originally created for a competition at the Student Television Network 2022 Convention. The students had six hours to create and edit a news story. They chose to feature Justin Rudd's Riley's Red Wagon Book Swap. The wagon was originally used to transport Rudd's beloved dog Riley and is now used to distribute free books to children.
The seventh annual NATAS competition recognized talented students from across the country. Over 120 schools were represented in the contest having previously been selected as winners in one of the NATAS Regional Chapter competitions.
NATAS is a service organization dedicated to the advancement of the arts and sciences of television and the promotion of creative leadership for artistic, educational, and technical achievements within the television industry. Best known for its Emmy Awards that recognize excellence in a number of categories, the Academy also sponsors programs, seminars, and scholarships for high school and colleges in cities served by the 19 local chapters.
Posted: November 22, 2022
Category: College News, Student News
Tagged as: Kimberly Blum, NATAS National Student Production Award