Five Questions With…Danny Pimentel
"Five Questions With…" is a series of profiles of CJC graduates and the career paths they chose.
Dr. Daniel Pimentel, B.S. Advertising 2011 and Ph.D. 2020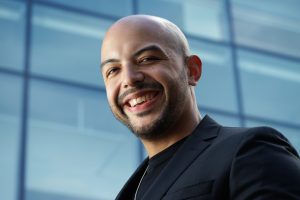 1. Tell us about your current job.
I'm an assistant professor in immersive psychology at the University of Oregon's School of Journalism and Communication, where I research how augmented and virtual reality (AR/VR) can contribute to pro-social and pro-environmental outcomes. Most of my days are spent creating and/or testing AR/VR experiences with various audiences, and then writing about it at my favorite coffee shop.
2. Why did you choose to come to the UF College of Journalism and Communications?
The McKnight Fellowship provided me with the resources to pursue a doctoral degree in Florida. I chose UF because of the faculty (shout out to my academic hero: Dr. Sri Kalyanaraman).
3. How did your time at CJC help prepare you for this current position?
Working with Dr. Kalyanaraman as Lab Coordinator in the Media Effects and Technology Lab (METL) gifted me the best years of my life. The position afforded me the opportunity and skills necessary to design, build, and test the efficacy of immersive storytelling to address serious issues facing humanity (i.e., climate change). It also provided me with a wealth of experience in terms of establishing collaborations with industry partners, grant writing, and secured valuable doctoral internships that resulted in publications and meaningful connections.
4. Was there a defining moment, personally or professionally, at CJC that set you on your current path?
Not a specific moment, but I think back fondly to those days in the METL where Sri, Dr. Shiva Halan (our post-doc now at Meta Reality Labs), our undergrad students, and myself would gather weekly for our lab meetings. We'd have high-energy brainstorming sessions, discuss new ideas, host guests from industry and academia, etc. Being a part of such a dynamic lab with many exciting projects happening made me fall in love with academia. It's a bit of magic I hope to recreate one day in a lab of my own.
5. If you had to do your academic experience or career over again, what, if anything would you do differently?
Honestly? I'd improve the naming conventions of my word documents. It's total chaos in my Dropbox and I blame my grad student self for this bad habit.
Bonus Questions
6. What advice do you have for students interested in pursuing a career similar to yours?
Trust the process and don't compare your progress with your peers. Set your individual goals and benchmarks and focus on improving yourself every day.
7. Where do you hope to be in your career in five years?
Continuing to work with scholars and industry professionals to create storytelling experiences that have a positive measurable impact on society.
Posted: November 18, 2022
Category: Alumni Profiles, Careers, College News, Five Questions With..., Profiles
Tagged as: Danny Pimentel, Five Questions, METL, Sri Kalyanaraman