Rachel Grant Authors Book Chapter on Marvel Comic Heroines in Transmedia Spaces
Rachel Grant, University of Florida College of Journalism and Communications Journalism assistant professor, is the author of a chapter in the book "Gendered Defenders: Marvel's Heroines in Transmedia Spaces" published by The Ohio State University Press in October 2022.
Grant's chapter, "Don't Scare Me Like That, Colonizer!" focuses on "Black Panther's" Shuri character through a postcolonial feminist lens.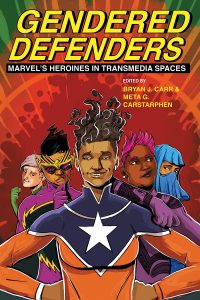 According to Grant, "As a Black female Marvel character, Shuri is a unique version of a super-heroine because she is able to strip away the damsel-in-distress role associated with princesses; also, her aptitude for science demonstrates the vitality of Afrofuturism. The film gave hope to many in the African-diasporic lineage that media representations had evolved to show Black characters in power and free from oppression."
Grant writes, "The film educated audiences in postcolonial theory by recognizing Black women's stories. Shuri doesn't fit the stereotype of the Third World 'victim' because she becomes the knowledge base for the Avengers. As a superhero, she exudes a vast range of intelligence including Westernized culture, but instead of embracing those ideals, she challenges them and asserts her own experiences."
She adds, "As a young woman, she's a role model that empowers women to be smart and innovative in fields dominated by the patriarchy. The complexity of Shuri's character demonstrates how sci-fi narratives can reconstruct dominant notions of inequality and oppression, especially through a postcolonial lens of Afrofuturism."
"Gendered Defenders: Marvel's Heroines in Transmedia Spaces" delivers dynamic and original analyses of how women perform in super heroic spaces. Contributors from a range of disciplinary perspectives—communications, international relations, cultural and media studies, English, history, and public policy—take on Marvel's representations of women and gender to examine how relations of power are (re)produced, understood, and challenged.
Posted: October 31, 2022
Category: College News, Diversity News and Profiles
Tagged as: Rachel Grant