Linjuan Rita Men Receives 2022 PRSA Educators Academy Summit Top Faculty Paper Award
Linjuan Rita Men, University of Florida College of Journalism and Communications (UFCJC) Public Relations professor, and a team of researchers are the recipients of 2022 Public Relations Society (PRSA) Educators Academy Summit Top Faculty Paper Award.
Men, Alvin Zhou, UFCJC doctoral student Jie Jin, and Patrick Thelen, Ph.D. 2019, are the authors of "Shaping Corporate Character via Chatbot Social Conversation: Impact on Organization-Public Relational Outcomes."  The paper will be presented at the PRSA Educators Academy Summit on Nov. 12 in Grapevine, Texas.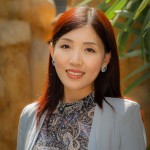 In the study, Men examined how chatbot social conversation—a communication strategy that encompasses both social presence and conversational human voice and is conceptualized in consideration of chatbots' mediated communication environment—can contribute to organization-public relational outcomes.
According to Men, "To understand how this process works, we incorporated the personification approach to organizations, and also investigated the impact of chatbot social conversation in shaping public perceptions of corporate character (i.e., agreeableness, enterprise, competence, and ruthlessness)."
She adds, "Results confirm that chatbot social conversation can serve as a strong antecedent of the corporate character of the organization that deployed it. Perceived corporate character also directly influences the quality of organization-public relations outcomes, demonstrating the potential of using AI-enabled social chatbots for public relations purposes."
Posted: October 21, 2022
Category: College News
Tagged as: 2022 PRSA Educators Academy Summit, Linjuan Rita Men