UFCJC Public Relations Doctoral Student Receives 2022 Plank Center Top Student Paper Award
Eve Heffron, University of Florida College of Journalism and Communications (UFCJC) doctoral student, is the recipient of the 2022 Plank Center Top Student Paper Award sponsored by the Plank Center for Leadership in Public Relations.
Heffron will present the winning paper, "Exploring the Impact of Perceived CSA Accommodations on Employee Attitudes and Behavioral Intentions," at the Public Relations Society of America (PRSA) Educators Academy Summit on Nov. 12 in Grapevine, Texas.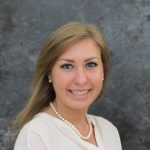 According to Heffron, her study applied the Contingency Theory of Strategic Conflict Management to examine employees' accommodation expectations of their employers when taking stands on social issues and how it may relate to employee perceptions of trust, hypocrisy, and harmful behavioral intentions toward their company.
She adds, "Additionally, this study explored whether an employee's political ideology influenced their accommodation expectations and organizational outcomes (i.e., organizational trust, corporate hypocrisy, and harmful behavioral intentions)."
Heffron will also serve as a panelist at the PRSA ICON 2022 conference following the Educators Summit on Nov. 15. The four-person panel for "Public Relations Journal: Presenting Research That Matters to the Practice" will discuss the latest public relations and communication-based research featured in the Public Relations Journal during the past year.
Posted: October 18, 2022
Category: College News, Student News
Tagged as: 2022 Plank Center Top Student Paper Award, Eve Heffron