Beyond120 Presents: David Fakunle
Dr. Fakunle is faculty in the department of Mental Health at Johns Hopkins, chair of the Maryland Lynching Truth and Reconciliation Commission, and founder of DiscoverMe/RecoverMe (https://discovermerecoverme.com/). His expert knowledge in the cultural traditions of Black storytelling informs his innovative use of narrative for both research and healing. His story has the power to inspire and change perceptions, and his unique public speaking/performance style is exciting and engaging. 
Do not miss this rare educational opportunity!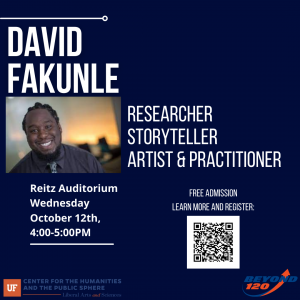 This event is co-sponsored by the Center for Humanities in the Public Sphere (Rothman Endowment). 
Posted: October 5, 2022
Category: Student News