Asian Public Relations Student Association Mentorship Program Applications Open
Apply for A(PEER)SA! APRSA created the A(PEER)SA mentorship program to build a strong support system among diverse students. We welcome all students who are interested in communications and professional development opportunities. If you need to vent to an understanding peer, seek career advice from an experienced colleague, or exchange lo-fi study playlists with a friend, apply to be a peer today! 
Applications can be found here and close on Friday, Sept. 23, at 11:59 p.m.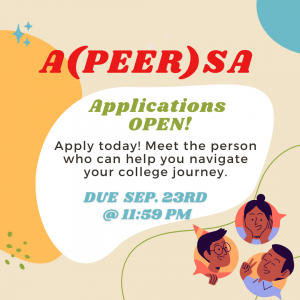 Posted: September 21, 2022
Category: Student News