UFCJC Student Journalists Receive Two 2022 National Student Edward R. Murrow Awards
University of Florida College of Journalism and Communications student journalists are the recipients of two 2022 National Student Edward R. Murrow Awards. "Run, Regas, Run," by Victor Prieto, B.S. Journalism 2021, and "Rising from the Rubble" by WUFT News Staff, won first place in the Excellence in Video Feature Reporting and Excellence in Video Hard News Reporting categories, respectively.
"Run Regas Run," featured Ocala's Regas Woods' journey to the 2021 Tokyo Paralympics. "Rising from the Rubble" chronicled stories of hope, recovery and resiliency after Houma, Louisiana was devastated by Hurricane Ida. The CJC  alumni , working for WUFT-TV, won two of the eight categories in the student competition, the first time two WUFT students won in the same year.
The same two entries were honored in the 2022 Broadcast Education Association (BEA) Student Festival of Media Arts Student Documentary and Student News Competitions including two "Best of Festival" accolades.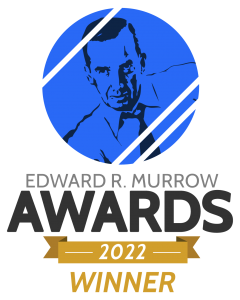 Since 1971, the Radio Television Digital News Association (RTDNA) has been honoring outstanding achievements in broadcast and digital journalism with the Edward R. Murrow Awards. Among the most prestigious in the news industry, the Murrow Awards recognize local and national news stories that uphold the RTDNA Code of Ethics, demonstrate technical expertise and exemplify the importance and impact of journalism as a service to the community.
The winners will be celebrated at the Edward R. Murrow Awards Gala on Oct. 10 in New York City.
Posted: August 12, 2022
Category: Alumni News, College News, Student News
Tagged as: National Student Edward R. Murrow Awards