UFCJC Student Publishes Opinion Piece for National Intern Day
Makiya Seminera, a senior pursuing a Mass Communications minor in the University of Florida College of Journalism and Communications and a reporter at The Independent Florida Alligator, is the author of the guest opinion column "I Helped Pen the First Rough Draft of History Through My Internship. You Could, Too" published in The Gainesville Sun on July 28.
In honor of National Intern Day, Seminera reflected on her experience as a reporting intern at The State newspaper in Columbia, South Carolina, and offered advice for others to find successful internships.
"By interning at The State, I was thrust into a newsroom that cared about my well-being and success. I never felt afraid to ask questions or receive feedback," said Seminera. "Internships are a treasure trove for connecting with accomplished people in your field. My internship at The State made me fall in love with journalism again."
She learned that you should not be afraid to put yourself out there.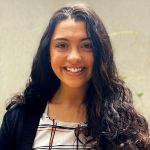 "Choosing an internship can be stressful, as you balance the need for a livable wage while aiming for a prestigious position. Instead of prioritizing reputation, you should strive for a healthy workplace," she said. "The number of cold calls I've made seeking interviews would make any socially anxious Gen Z member's toes curl. But, in time, it became apparent that the worst-case scenario is someone saying no. That mentality relates to applying for internships, too. I encourage you to put yourself out there and try, even if you feel you're underqualified for a position."
She suggests that students should try to find experiences that will help make them a qualified candidate. If you have a great team of people rooting you on lean into them for guidance when you can.
Seminera adds, "'Shoot for the moon. Even if you miss, you'll land among the stars.'"
Posted: August 3, 2022
Category: College News, Student News
Tagged as: Makiya Seminera