Houston Wells Captures Footage of the Elusive Pocket Gopher to Help Promote UF Research
Film footage by Houston Wells, University of Florida College of Journalism and Communications Media, Production, Management, and Technology senior lecturer, was included in stories promoting "gopher farming" in The New York Times, The Atlantic, EcoWatch, National Geographic,  Popular Science, Futurity and others.
The media stories focused on southeastern pocket gopher research conducted and published by UF biologists Veronica Selden and Francis Putz. The gopher, often known as a pest, could also be considered a rudimentary kind of farmer for engaging in agricultural behavior.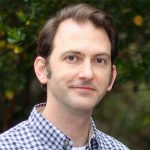 Wells said he filmed the gopher at Prairie Creek Conservation Cemetery, just outside of Gainesville. He was shooting some general footage of the cemetery at the time and he heard the gopher burrowing nearby. He quietly turned the camera toward him and shot a bit, then switched lenses to get a better view. Pocket gophers tend to be a bit shy, so he was excited to get the shot.
"UF Biology professor Dr. Jack Putz reached out about a collaboration between some of his research students and one of my production classes," said Wells. "My students worked with his students to produce 'video abstracts' of research projects, one of which concerned pocket gophers. My students visited the study sites and talked to the researchers, eventually creating videos intended for use by the researchers."
After the gopher story was published, visual materials were made available to media outlets interested in reporting on the research including the raw clip of the pocket gopher Wells recorded at the cemetery.
Wells adds, "I'd like to be able to say, 'I waited all day outside the burrow to capture this elusive creature at work,' but it was just a lucky moment."
Posted: July 14, 2022
Category: Alumni News, College News
Tagged as: Houston Wells