Myiah Hutchens Comments on MAGA Influencers and Their Quest to Build Clout and Connections in Florida
Myiah Hutchens, University of Florida College of Journalism and Communications Public Relations Department interim chair and associate professor, is quoted in "MAGA Influencers Flock to Florida, Chasing Political Clout and Connections" published in the Tampa Bay Times on June 16.
The article focuses on right-wing media personalities who are working to expand their reach from the internet into the real world of backroom politics and government policymaking.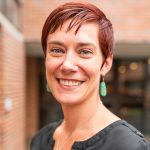 According to Hutchens, it's all about engagement. "Posts that incite anger, both from liberals who are offended by the content or from Republicans outraged at the wrongs the influencers say they're exposing, often have increased reach. That means more likes, comments and shares of posts, which is often how influencers grow their brands and make money."
"We like to pretend we're very rational people and we approach politics in this rational way … (but) we know anger provokes engagement more than anything else," she said.
She adds, "The rise of partisan media and entertainment comes at the cost of increased national polarization. Social media users who see inflammatory content should always try to verify it with other sources."
Posted: June 16, 2022
Category: College News
Tagged as: Myiah Hutchens