Churchill Roberts Will Speak About His Documentary Films at the UF Asian Faculty and Staff Association June Meeting
Churchill Roberts, University of Florida College of Journalism and Communications Media Production, Management, and Technology professor, will be the featured for speaker for the UF Asian Faculty and Staff Association virtual meeting on June 15 at noon. He will focus on three of his latest documentary films covering Asian history and culture.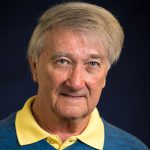 Roberts will share information on "The Curse of the Terracotta Warriors" in the context of social change and globalization. In "Discovering the Kingdom of Women," he highlights the transformation of a traditional matrilineal society of the Mosuo women in Yunnan, China, and in "Crossing the Yalu River" he chronicles North Korean immigrants in the Dandong region.
Registration is available at https://go.ufl.edu/xdxwgvj.
Posted: June 13, 2022
Category: College News, Diversity News and Profiles
Tagged as: Churchill Roberts