Carrie Miller to Join UFCJC Public Relations Department, Focus on Health Communication
The University of Florida College of Journalism and Communications today announced that Dr. Carrie Miller will join the College this fall as Assistant Professor in the Department of Public Relations and will be playing an active role in the College's  STEM Translational Communication Center and the UF Health Cancer Center.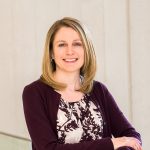 Miller has completed a Susan G. Komen predoctoral fellowship and is currently a postdoctoral fellow in a National Cancer Institute T32 Training Program in Cancer Prevention & Control at Virginia Commonwealth University's (VCU) School of Medicine and Massey Cancer Center. As a T32 scholar, Miller gained advanced training in health communication, social media, and mobile/digital health; conducted social media listening studies focused on understanding the public discourse of cancer-related topics on social media; and conducted research aimed at addressing misinformation and developing timely and effective communication strategies. She also helped develop the "Together for Health – Virginia" program, which uses online recruitment methods, including social media ads, to recruit participants in an e-cohort and health registry for longitudinal epidemiologic research.
Miller's background in behavioral and population science provides a unique perspective in cancer communication and prevention science. Her research is focused on developing novel interventions, which leverage communication and digital technologies to improve cancer screening uptake and awareness.
Prior to earning her Ph.D. in 2018, Miller worked in a variety of research roles in the academic and private sectors honing her research skills. Her work experience includes Research Analyst at the Research & Program Evaluation Section of the U.S. Marine Corps Headquarters, Project Manager at the VCU Diabetes in Adolescence Research Team, and Research Coordinator Senior at the Massey Cancer Center's Tissue and Data Acquisition and Analysis Core.
At present, she has more than 20 publications in peer-reviewed journals and has published one book chapter. Her work has been disseminated in more than 50 poster and oral presentations at national and international conferences.
Posted: June 7, 2022
Category: College News, Professional Master's News, STEM Center News
Tagged as: Carrie Miller, STEM Translational Communication Center