Brent Fannin's Short Documentary Focuses on the Plight of Florida Springs
Brent Fannin, University of Florida College of Journalism and Communications Administrative Support Assistant, was featured in "Focus on Water with Project Paradise" published in Palm Beach Illustrated on May 2.
Fannin was the recipient of an inaugural $25,000 Natural Florida Film Grant from the Project Paradise Film Fund, a Palm Beach nonprofit. He used the grant to work with a team to create a 10-minute documentary focusing on Florida springs and the issues that are causing their degradation and destruction. The film, "The Water State," is a direct appeal from Fannin to preserve the precious water ecosystem. He encourages viewers to "cry, freak out, and be moved to action."
According to Fannin, "It's more important to understand that the springs are an indicator of the health of the aquifers, the source of 90 percent of our drinking water. Telling the story through a visual medium like a documentary allows visitors to see the stunning beauty of this necessary resource, as well as the effects of human abuse."
Kent Anderson, one of the founders of the Project Paradise Film Fund, said several factors tipped the scale in Fannin's favor.
"[His project] was achievable. He was very passionate and knowledgeable and had a clear vision about what he wanted to do," Anderson said. "He also had a fantastic story."
The film will debut at a screening in Palm Beach followed by other screenings around the state. It will then be promoted and distributed via YouTube, social media and film festivals.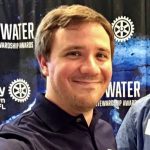 Fannin is one of the founders of Keepers of the Springs. This non-profit provides opportunities for volunteers to work on cleanup projects, learn about pollution and over-consumption of water, and assist with preservation of the natural ecosystem. He has a Bachelor's degree from Taylor University in Upland, Indiana in Media Communication with an emphasis in film studies, and a certificate from the Los Angeles Film Studies Center.
Posted: May 20, 2022
Category: College News
Tagged as: Brent Fannin