Kutonya Sowell Named UFCJC Director of Finance and Chief Financial Officer
The University of Florida College of Journalism and Communications (UFCJC) today announced that Kutonya Sowell will be joining the College on June 24 as its new Director of Finance and Chief Financial Officer.
As Director of Finance, Sowell will oversee the College's business office functions, including budgeting, forecasting, fiscal planning and compliance, as well as long-term financial planning for all the College's departments and units that align with UFCJC's strategic goals.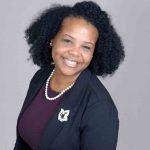 Sowell has worked at UF for more than 12 years, most recently as the Director of Administrative Services for UF's College of Design, Construction and Planning, where she served as Chief Financial Officer and directed long-range strategic planning, operations and administrative activities. In addition to her budget and financial experience, she has an extensive background in human resources and grant administration, including six years as a grants specialist with the UF College of Medicine.
Sowell earned her Bachelor of Arts degree in Business Administration and Master of Business Administration degree from Saint Leo University.
Posted: May 11, 2022
Category: College News
Tagged as: Kutonya Sowell