CJC Alumnus Mitchell Habib Named UF Distinguished Alumnus
University of Florida College of Journalism and Communications (UFCJC) alumnus Mitchell Habib, B.S. Advertising 1982 and Hall of Fame 2011, was honored as a University of Florida Distinguished Alumnus at the University's spring 2022 commencement.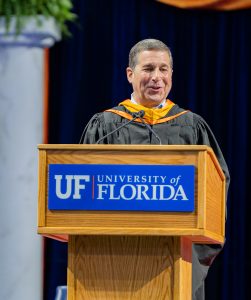 The UF Distinguished Alumnus Award is one of the University's most prestigious honors, recognizing alumni who have excelled in their chosen field or who have performed outstanding service for the University.
Habib is founder and Chief Executive Officer of FCM, a privately held full-service consulting firm that helps the world's top private equity investors and portfolio companies redefine their businesses to unlock value and accelerate growth. Prior to founding FCM, he was the Chief Operating Officer of Nielsen, the global leader in audience insights, data and analytics, which has played a significant role in shaping the future of media. Before joining Nielsen in 2007, he had been Chief Information Officer of Citi's North America Consumer Division and held multiple leadership roles at GE, including global Chief Information Officer of the Healthcare, Employers Reinsurance and Aircraft Engine Services divisions.
Speaking at the UFCJC Graduate Recognition Ceremony where he received the award, Habib shared experiences from his own life in addressing the class of 2022. He told the graduates that successful people have what he describes as the "persistence gene." Said Habib: "Everyone gets knocked down or sidetracked during their career. I know I certainly have. Learning to get back up after being knocked down is essential to your success. And when you get back up, you must go over, below, around or even through whatever obstacle stands between you and your goal."
Habib, who also received an M.A. in Public Administration from UF in 1984, has been a generous alumnus of the College of Journalism and Communications. In 2021, Habib and his wife Elissa gave UFCJC a $1 million gift to establish a professional advisory board for the Consortium on Trust in Media and Technology, and to create the Habib Dean's Excellence Fund to support other College initiatives.
Posted: April 29, 2022
Category: Alumni News, College News
Tagged as: Mitchell Habib, UF Distinguished Alumni