Rachel Grant Comments on How the Murder of Trayvon Martin Has Inspired Black Advocacy
Rachel Grant, University of Florida College of Journalism and Communications Journalism assistant professor, is quoted in "How Trayvon Martin's Killing Inspired a Generation of Black Journalists and Activists" published in The Washington Post on Feb. 26.
The article focuses on how advocacy to seek racial justice has increased since Martin's death.
Grant explains that the momentum of the movement has built over the years, as younger people continue to become radicalized by the shocking imagery of police brutality.
"Since Trayvon, we've seen Mike Brown, we've seen Eric Garner, Alton Sterling, Sandra Bland, and the names continue," she said. "The names have continued in the last 10 years, and we haven't necessarily seen a stop or a change."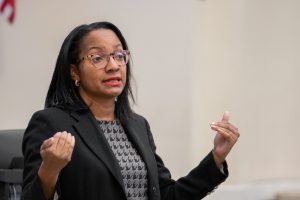 Grant, who says she herself felt drawn to activism in the wake of Martin's death, said the grind of protesting and storytelling is exhausting for young Black people, who have had their childhoods taken as they are seen as adults.
"There are all these tropes in which Black people have to prove their innocence, that we can't be victims when someone inflicts pain or violence on us," Grant said. "Thinking about that trial, in my own life, awakened those things."
"While the media has documented instances of violence against Black communities, it has clumsily reported, if at all, on the racism behind those attacks," Grant said.
Grant is also the Director of Research for the Narrative Justice Project, an initiative to to help circumvent the structural racism within mainstream media by helping communities of color effectively tell their own stories. To watch a video of Grant discussing the project, go to: https://www.jou.ufl.edu/insights/rachel-grant-narrative-justice/.
Posted: February 28, 2022
Category: College News
Tagged as: Rachel Grant