Lessons in Leadership: A Conversation with Laurence B. Alexander
By Jessica Berube, M.A.M.C 2021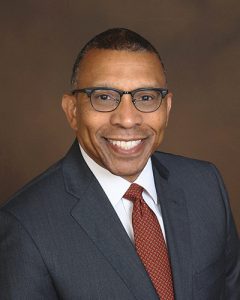 Dr. Laurence B. Alexander wants to put everyone in a position to win.
A 1983 graduate of the University of Florida College of Journalism of Communications (UFCJC) Master's program and UFCJC faculty member and administrator for 22 years, Alexander now serves as Chancellor at the University of Arkansas at Pine Bluff (UAPB) and Chair of the USAID Board for International Food and Agricultural Development (BIFAD), which is appointed by the President. Reflecting on his journey from UF to UAPB, three core themes quickly emerge as pillars of Alexander's leadership: the power of opportunity, the influence of mentorship, and the relevance of healthy competition.
Thanks for your time today, Dr. Alexander. You've held many impressive titles and positions in leadership. Which has been most significant to you personally or professionally?
My role here at UAPB is most significant in that as Chancellor, you're CEO of a campus—and a lot of responsibility comes with that. UAPB is a historically Black university (HBCU) which is really neat and really different from where I came from in Florida. It's also an 1890 land-grant university in the heart of Arkansas—so it's not just any college, but a special place.
The whole idea behind 1890 land-grants was to provide greater access and opportunity for people who could not access college prior to their establishment. For historically Black universities, this included formerly enslaved people or children of enslaved people. It has deep meaning for me and there's a sense of a calling to continue that tradition of providing access, opportunity, and affordability to students who come from low-income households, are first- generation college students or graduates, and all those who have the ability to succeed in higher education, but have not had the opportunity to do so.
What lessons in leadership would you like to see predominantly white universities take from HBCUs to create more equitable opportunities for Black students and scholars and other communities of color?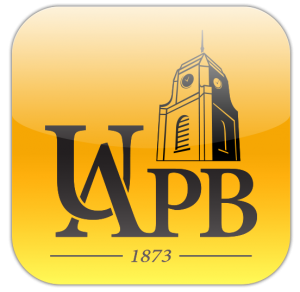 Great question. Before coming to UAPB, I wondered: "What can HBCUs teach us? What can they teach us about student success and reaching out to students who come from difficult circumstances and need extra support?" I thought about that quite a bit and now that I've come here and we've moved the needle on our student success, I think predominately white institutions can learn that in order to attain a more diverse and inclusive student population, they must pay more attention to the needs of the entire student body—especially students of color—to ensure they have a true sense of belonging. That's what HBCUs provide: a great sense of belonging for underrepresented minority students. Our students see faculty and staff who are like them, who are role models, who can provide mentorship and career advice.
I think predominately white institutions can learn that in order to attain a more diverse and inclusive student population, they must pay more attention to the needs of the entire student body—especially students of color—to ensure they have a true sense of belonging.
For students who aspire to move up, they must see themselves represented: to see leaders who aren't "the only one" who looks like them. Large institutions can really thrive in that area. It's not about having one or two Black leaders, but getting serious about diversifying the ranks.
Student success sounds like a core element of your professional mission. How did your 22 years at UF help prepare you to do this work?
I rose through the ranks at UF. I became an associate professor in 1994, the same year I became Chair of the Journalism department. It may sound strange to some people, but I learned how to lead a university from being a department chair. In that role, you're engaged in all of the department's relevant activities: external work, working with students directly through advising and working with faculty to set priorities for the department. Those are the skills I had to walk in the door with here at UAPB.
UF also prepares their chairs well through workshops and professional development both in-state and on a national level, from three-day programs at Howey-in-the-Hills to weeklong Freedom Forum workshops to the Annenberg Summer Fellowship in DC. I participated in the UF Provost Administrative Fellowship program in its inaugural year when David Colburn was Provost. I soaked that experience up like a sponge—I wanted to learn everything about how the Provost's Office functions and strategizes on a university-wide level.
When I was named a Distinguished Alumni Professor in 2001, I got a seat on the National Alumni Board at UF and was appointed to the University Athletic Association Board. I was getting exposure to how things run in Athletics from Jeremy Foley, the Athletic Director at the time, who was bringing together outstanding academics in athletics and demonstrating how both can be done at a high level.
After I was promoted to full professor in 2003, I decided to pursue a Ph.D. When I was writing my dissertation, I became Associate Dean in the Graduate School—that experience was amazing. I got to work in all aspects of the Graduate School as a faculty member mentoring and teaching graduate students, and I was also Director of the Office of Minority Programs. That's where I learned about the various aspects of recruitment and enrollment, retention, progression at the graduate level, so when I came here to UAPB it was a matter of translating that into the undergraduate experience.

What is your philosophy as a leader and educator?
 As a teacher, it's about continuous professional development. To be at the top of your game as a teacher, it takes renewal, to stay ahead on the frontline of what's happening. I think as individuals and educators we have a responsibility to commit ourselves to lifelong learning. Part of that is also my administrative philosophy.
"As individuals and educators, we have a responsibility to commit ourselves to lifelong learning."
As a leader, I want to put everybody here in a position to win. I want to put faculty in the position to win with resources and professional development, and to give students the guidance, coaching, advising, and preparation they need to be successful so that they enjoy post-graduation success. Stay open to learning even newer things when you get those opportunities, and as a leader, prepare others to win.
You've been appointed by President Biden as head of the Board for International Food and Agricultural Development. What are you most looking forward to in this role?
I'm looking forward to working with my colleagues on the board in support of the great work of the U.S. Agency for International Development, the world's premier agency leading "international development and humanitarian efforts to save lives, reduce poverty, strengthen democratic governance and help people progress beyond assistance."
Some people may be wondering how I got on the board—many of the previous BIFAD chairs are university presidents and leaders, including former UF Interim President and creator of the Institute of Food and Agricultural Sciences, E.T. York. The common thread among them all is university agricultural programs. We've got an agriculture and fisheries school here at UAPB that is highly engaged in research, teaching, extension, and outreach—they work side by side with farmers and producers in the community. I'm looking for ways we can bring that relationship closer together between academics, experts in the field and policymakers to really help push the Biden agenda forward.
Thank you so much for sharing that, and I'm looking forward to seeing what you continue to accomplish. Let's wrap up with something fun. What's something most people don't know about you?
I have a Morkie named Saint. He's a cute dog, real cute. Listen to me—cute.  This reminds me of trying to get journalism students to use adjectives sparingly and use good effective description. He is cute though.
And what activity are you particularly good at?
Well, I don't usually boast about my cooking, but as a native of New Orleans, I can prepare an authentic Louisiana-style red beans and rice dish that's second to none.
Posted: February 21, 2022
Category: Alumni Profiles, College News, Diversity News and Profiles, Profiles
Tagged as: Diversity, Laurence Alexander, University of Arkansas