Helping Communities of Color Tell Their Own Stories
In 2017, Pepsi borrowed imagery from the Black Lives Matter movement for an ad with Kendall Jenner that was intended to "project a global message of unity, peace and understanding." Instead, the ad trivialized protests against the killings of Black people by police. Pepsi quickly pulled the ad.
In 2014, the African American Policy Forum created the #SayHerName campaign to "shed light on Black women's experiences of police violence to support a gender-inclusive approach to racial justice that centers all Black lives equally." The campaign has garnered widespread support from organizations and individuals.
These two examples represent programs intended to speak for the Black community, one from outside the community that ended in intense criticism, and one from inside the community that mobilized millions of people.
After high-profile coverage of the killings of George Floyd, Breonna Taylor and Ahmaud Arbery, it became clear that a conversation was needed on how to empower individuals to do narratives that accurately reflect their lives.
To foster those conversations, the New York-based Wakeman Agency, in partnership with the University of Florida College of Journalism and Communications (UFCJC), launched the Narrative Justice Project in an attempt to circumvent structural racism and white supremacy within mainstream media by helping communities of color effectively tell their own stories. As described by Agency founder Vanessa Wakeman, former public relations visiting professional at the College, the Narrative Justice Project is "a tactical response to popular media conversations around stereotypes and conversations around racism."
UFCJC Journalism Assistant Professor Rachel Grant, who was named Research Director for the project, has been focused on counter stories and oppositional knowledge – how to change the narratives from mainstream media and re-center on the actual issues that affect Black and Brown people in their daily lives. The research was conducted through a public interest communications lens, which acknowledges journalism's advocacy role, but also empowers communities to use communication to drive social change.
Participants in the project go through a 90-minute training and then participate in focus group discussions around media and media representations. "In those media representations, we tend to address a lot more of the deep everyday struggles, not so much the impact of these larger issues, but really the everyday oppositional knowledge that has to be created," Grant said.
"What we've found so far is that individuals really feel as if their humanity is very much stripped. And when it comes to media interactions, there's a lot of conflict and confusion from individuals, particularly people of color. They feel like there's a lack of transparency." The training is designed to tackle that lack of transparency and issues of trust. "How do we create conversations when individuals are interviewed on broadcast television, or are being interviewed by a publication or posting on social media, how can they really focus on the mission and the justice they're trying to communicate instead of falling into some of these media stereotypes?"
The research has found that many people understand their own experience and can relate their experience better than the media can. They know what the media is looking for and how media functions. "A lot of the conversations in the focus groups have been about addressing how media impacts not only individual people of color, but also communities overall," Grant explained. "I think we tend to focus on Black and Brown communities as a collective, but we also need to try to uplift and elevate the voices that are very much missing."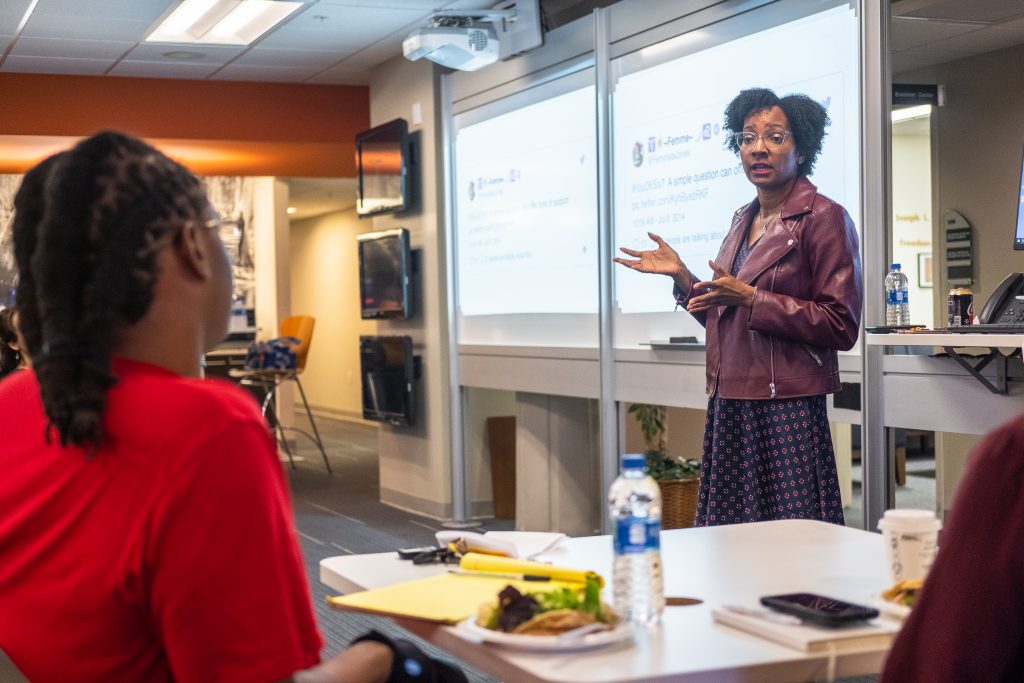 Grant describes social tensions between media and the communities of color they are covering. Journalists and communicators often lack context and need to understand the social historical, economic, and political structures that actually exist.
"What we've learned so far in this project is that these communities understand their struggle. They understand that there's a place of status or hierarchy that they exist in, but they're very aware of the history. People were very keen in knowing their own history and knowing what their ancestors had to go through in order to get to these moments of justice and social change."
In terms of how media talks about communities of color, Grant cautions that this is not just a journalism problem. "We see conversations in advertising and public relations and media representations and public culture and entertainment media," she said. "So I think integrating and converging those things is very key."
She also believes this is not just a research issue. "We also need to be able to empower our students around how communication really affects the social, political and economic lives of individuals or communities we cover. So conversations about underrepresented groups need to be integrated within our curriculum, within our teaching.  The positionality and the power of journalism as a tool is very key in terms of how we communicate to our students, but also in terms of how we see individuals or communities as a whole."
Posted: January 31, 2022
Category: Profiles
Tagged as: Narrative Justice Project, Rachel Grant