Five Questions With…Andy Freedman
"Five Questions With…" is a series of profiles of recent CJC graduates and the career paths they chose.
Andy Freedman, B.S. Public Relations 2001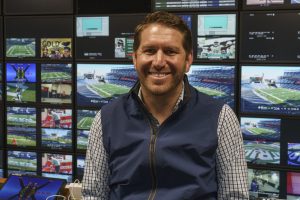 Andy Freedman is an eight-time Emmy Award-winning director with 20+ years of experience at CBS sports. He started his career as a student intern at UF and worked his way through the ranks to become a director at CBS Sports. In his various roles, he has covered multiple Super Bowls, Masters Tournaments, NCAA men's basketball tournaments, PGA tour events and more.
1. Tell us about your current job.
I am currently a director for CBS sports. My schedule is NFL/college football in the fall, college basketball/March Madness in the winter/spring, and the Masters/PGA Championship/PGA tour in the spring/summer.
2. What does a director of live sports do?
Directors oversee the camera coverage and overall presentation of the broadcast. They determine in real-time how the audience views the game. They process all of the information from the producer, cameras, videotape, graphics, all while listening to the announcers and quickly making decisions as to what the viewer sees.
3. How did your time at CJC help prepare you for this current position?
Being able to see big-time SEC sports up close and personal while a student was a big advantage for me. When I graduated and started working for CBS on NFL and SEC football games, I felt comfortable because I had already experienced it for 4 years at UF.
4. What advice do you have for students interested in pursuing a career in sports production?
My number one piece of advice is always experience. Not one person has ever asked me for my GPA (thankfully). UF and CJC have so many opportunities for students with athletics, news, SEC network, radio, etc. In addition, Gainesville is two hours to Orlando, Tampa and Jacksonville with so many additional opportunities.
5. What pride do you feel from attending UF and CJC?
In airports or stadiums, or anywhere while traveling, it's great to see a Gators hat or shirt and just say "Go Gators" to a stranger. The motto is true, the Gator Nation is everywhere.
Posted: December 17, 2021
Category: Alumni Profiles, Careers, College News, Five Questions With..., Profiles, Sports
Tagged as: Andy Freedman, CBS Sports