Ron Rodgers Granted Professor Emeritus Status
Ron Rodgers, former University of Florida College of Journalism and Communications Journalism associate professor and Journalism Department graduate coordinator, has been granted emeritus status by UF Provost Joseph Glover.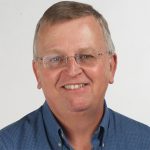 Rodgers retired this year after 16 years at the College. He joined the faculty in Fall 2005 after more than 20 years as a journalist. He is a renowned journalism historian, has presented thirty-four papers at national and international conferences, published fourteen research articles in peer-reviewed journals, two monographs, a book chapter. His book The Struggle for the Soul of Journalism: The Pulpit versus the Press, 1833-1923 was a finalist for the Frank Luther Mott – Kappa Tau Alpha Journalism & Mass Communication Research Award in 2019.
Posted: November 28, 2021
Category: College News, Diversity News
Tagged as: Ron Rodgers