Five Questions With Kaitlyn McGrath
"Five Questions With…" is a series of profiles of recent CJC graduates and the career paths they chose.
Kaitlyn McGrath, B.S. Telecommunication 2014
1. Tell us about your current job?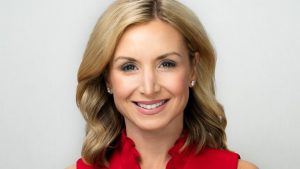 I am a Meteorologist at WUSA in Washington D.C. I deliver the forecast for the noon and 5:30 p.m. newscasts. In addition to my forecasting responsibilities, I work closely with our digital team to provide the most accurate forecast across all digital platforms. I am also an environmental advocate committed to informing and educating viewers about what can be done to help mitigate the impacts of climate change.
2. Why did you choose to come to the UF College of Journalism and Communications?
The UF College of Journalism and Communications offered everything I was looking for as an aspiring meteorologist. From the state-of-the-art facilities and resources to the close-knit nature of the College, the program provides a wonderful environment to set students up for success.
3. How did your time at CJC help prepare you for this current position?
The resources available to students at CJC is what really sets the College apart. The College is led by top-notch professors and encourages hands-on course work as well as the opportunity to be a part of a live newscast on WUFT-TV. The experiences made possible by the College provides immeasurable value to students.
4. Was there a defining moment, personally or professionally, at CJC that set you on your current path?
I have Jeff Huffman and the Meteorologist-in-Training program to thank for the success in my career. The opportunity to forecast for North Central Florida and broadcast on WUFT-TV was an invaluable experience that provided me with the knowledge and training required to start my career before I even graduated from UF!
5. What advice do you have for students interested in pursuing a career in meteorology?
You need to have passion and perseverance. The job often requires demanding hours, flexibility in your normal routine and the news never stops. It is also a very competitive industry. Work hard, be bold and advocate for yourself!
Posted: November 19, 2021
Category: Alumni Profiles, Profiles
Tagged as: Kaitlyn McGrath, Meteorology