Brent Fannin Receives Inaugural Natural Florida Film Grant from Project Paradise Film Fund
Brent Fannin, University of Florida College of Journalism and Communications Administrative Support Assistant, is the recipient of the inaugural $25,000 Natural Florida Film Grant from the Project Paradise Film Fund. Fannin will use the grant to direct a short film on Florida springs focusing on issues that are causing their degradation and destruction.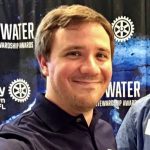 Project Paradise Film Fund, in partnership with the Community Foundation and Kilo Content, is a new organization founded with the intent to help conservation-minded storytellers create short documentaries telling the story of protecting Florida's natural environment and resources. Fannin, who was one of 60 grant applicants, will begin work immediately and complete production of a 7 to 12-minute film by the end of January.
Fannin is one of the founders of Kings of the Springs. This non-profit provides opportunities for volunteers to work on cleanup projects, learn about pollution and over consumption of water, and assist with preservation of the natural ecosystem. He has a Bachelor's degree from Taylor University in Upland, Indiana in Media Communication with an emphasis in film studies, and a certificate from the Los Angeles Film Studies Center.
Posted: November 17, 2021
Category: College News
Tagged as: Brent Fannin, Project Paradise Film Fund