McNair Scholars Program Open House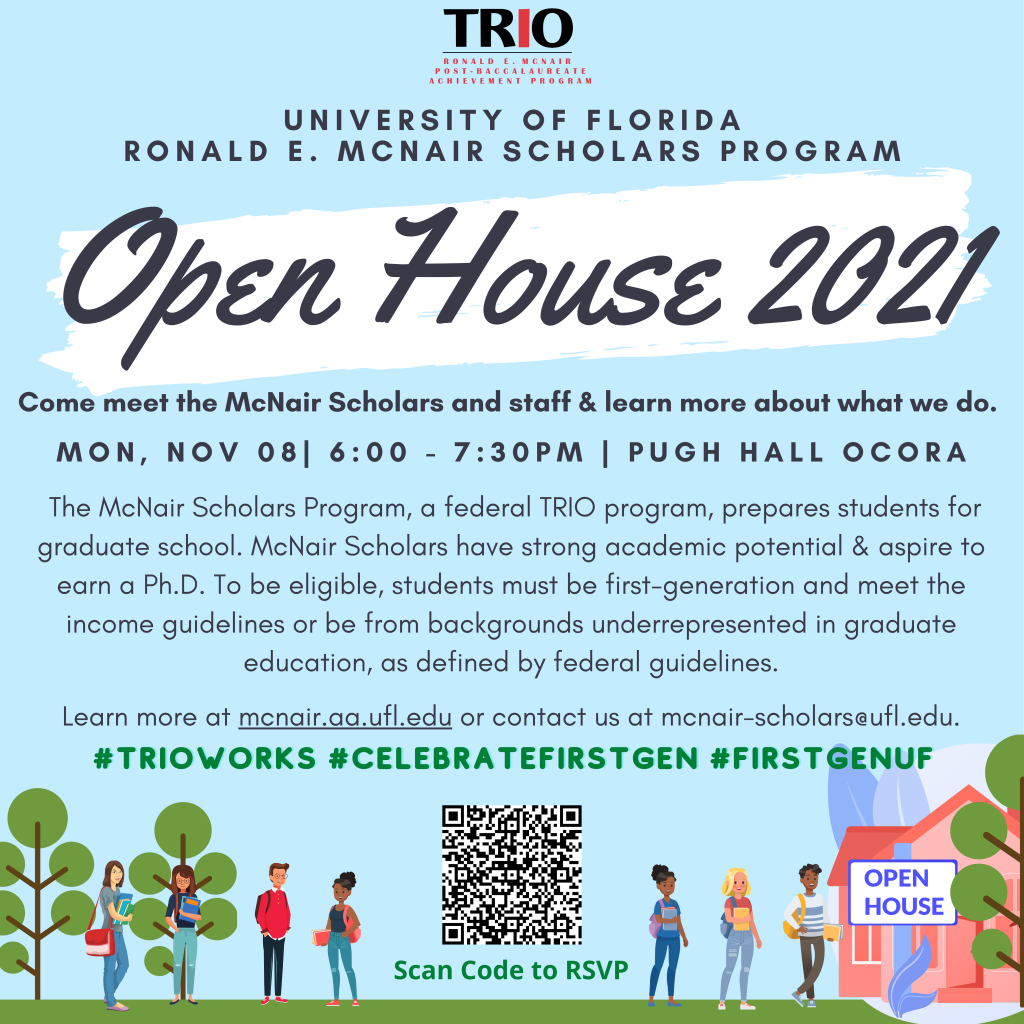 The UF Ronald E. McNair Scholars Program cordially invites all students, staff, faculty, and community members to stop by our open house on Monday, November 8. The open house will take place at 6:00 – 7:30 pm in the Ocora at Pugh Hall (flyer attached). The McNair Scholars will have research posters on display and the McNair staff will be on hand to answer questions. Students who are interested in the McNair Scholars Program are strongly encouraged to attend. Everyone is welcome. We hope to see you there!
McNair Scholars Program Open House
Monday, November 8, 2021 (National First-Generation College Celebration Day!)
6:00 – 7:30 pm
RSVP Here: https://forms.office.com/r/676cq2gykG
What Is McNair?
The Ronald E. McNair Scholars is a federal TRIO program funded by a grant from the U.S. Department of Education.  The mission of McNair is to prepare talented, highly motivated undergraduates for entrance into PhD programs in all fields of study, with an emphasis on STEM disciplines. Our program aims to promote and nurture the next generation of faculty, researchers, and scholars by providing academic and social support services, research experience, and graduate school preparation. There are currently 187 McNair programs across the U.S. serving a total of 5,245 McNair Scholars.
The UF McNair Scholars Program is excited to celebrate our 27th year of preparing outstanding scholars for graduate education. Recent graduates are enrolled in master's and PhD programs at top institutions across the U.S.
Who Is Eligible to Apply?
UF undergraduate students who are U.S. citizens or permanent residents and meet the criteria below are encouraged to apply to the McNair Scholars Program.
Applicants must meet either (or both) of the following federal eligibility criteria:
A first-generation* college student (neither parent has earned a bachelor's degree) who meets federal income guidelines,* OR
A member of a group that is underrepresented in graduate education* as defined in the Code of Federal Regulations
In addition to the above, applicants must:
Have a strong interest in graduate education and scholarly research
Have completed the sophomore year (earned at least 60 credits) prior to the summer 2022 semester
Have a cumulative GPA of 3.0 or higher
Plan to continue immediately to graduate school and persist to earn a PhD
*The definitions that apply to the federal eligibility criteria can be found at http://mcnair.aa.ufl.edu/application/.
To learn more about UF McNair, visit http://mcnair.aa.ufl.edu.
Posted: October 22, 2021
Category: Student News