CJC Alumna Named One of the 2021 Top 25 Hospital Marketers
UF Health Communications Marketing Manager Alisha Katz, B.S. Public Relations 2012, a has been named one of the Top 25 Hospital marketers in the U.S. for 2021 by DTC Perspectives, a publishing, conference/training, and consulting company specializing in consumer marketing of pharmaceutical and healthcare products.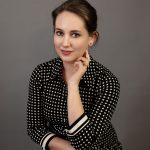 The Top Hospital Marketers of the Year Awards recognize extraordinary hospital marketers driving innovation, spearheading great creative, and working toward better branding for their hospital, health system, or facility. Judging for the seventh annual list was based on innovation, reputation, accomplishments and notoriety among their peers, partners and the media.
Katz will be inducted into the class of 2021 during a ceremony at the Hospital Marketing National Conference, part of the Xpectives Health Summit on Oct. 13.
In November, she will become an associate account director at Real Chemistry, a global public relations firm that specializes in health innovation.
Posted: October 12, 2021
Category: Alumni News, College News, Diversity News and Profiles
Tagged as: Alisha Katz