CJC Alum Authors Book on the Perception of Liberal Bias in the News
Rich Shumate, Ph.D. 2018, is the author of the book Barry Goldwater, Distrust in Media, and Conservative Identity: The Perception of Liberal Bias in the News published on Sept. 7.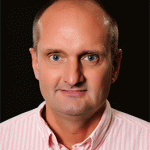 In the book, based on his CJC doctoral dissertation, Shumate posits that conservatives' need to foster and maintain social identity as conservatives led them to perceive content from elite news media outlets as biased when it did not validate the way they saw the world, deeming it hostile and, by extension, "liberal." He examines the coverage of the emergence of movement conservatism from 1960-1964 when conservatives organized to try to elect Barry Goldwater as president and blamed the news media's bias for the defeat.
According to Shumate, "As we all saw after January 6th, conservatives refused to believe news media reports of a fair and fraud-free election, after being primed by nearly six decades of believing the media had a liberal bias. This research sheds light on why this perception persists, which is the key step in trying to cope with its effects."
Shumate is currently an assistant professor in the School of Media at Western Kentucky University.
Posted: September 13, 2021
Category: Alumni News, College News, Diversity News
Tagged as: Rich Shumate