Love of Sports, Writing and Community Service Pushed CJC Student to Excel at UF
By Lenore Devore, B.S. Journalism 1984
N'Jhari Jackson spent so much time at Shands Hospital as a child that he felt an attraction to Gainesville, one so strong he decided to return to the city as a student at the University of Florida.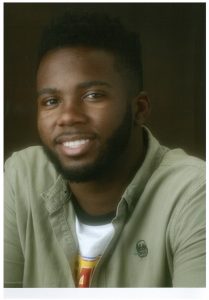 His journey from his days getting treatment for Autoimmune Juvenile Idiopathic Arthritis (JIA) and surgery to remove a mass in his upper arm to entering his senior year majoring in Journalism Sports Media in the College of Journalism and Communications have been full of sports, public service, sports — and sports' injuries. But his strong will and desire to be a strong, humble servant leader have helped him overcome all obstacles.
He does not let JIA slow him down. Right now he's the best he's been in a while, he said. "But now and then, my joints are stiff and hurt. It makes you not want to even get off the couch." As a young competitive swimmer and a walk-on running back on the Gator football team, he's learned to adapt. "You just hope for the best. Sometimes you're not feeling it but you attempt to stick it out. Sometimes you realize this isn't going to work today. I've learned to either work around it or do alternative stuff in practice so I can have a little bit of a rest, but still practice and work out."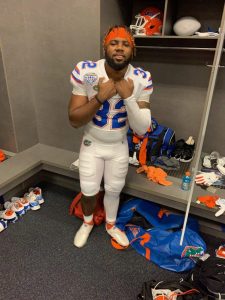 An injury kept him off the field, but he said he got to travel with the team, including to the Cotton Bowl in Texas in 2020. He planned to walk on again this year, but a thumb injury sustained playing basketball may keep him off the field.  Still, he uses what he has learned on the field — especially time management — in life. "You have to put your mind to it and go into it with somewhat of a positive attitude, and then you can basically overcome anything. If I know I want to do something tonight, let me get my work done in the morning so I don't have to worry about it later."
When he arrived at UF, he planned to major in criminology and minor in real estate , and even took a weeklong training program with the FBI in Tampa. Then he renewed his love for sports and changed his major to sports management. He also realized he loved writing, so he switched to Sports and Media, where students learn everything from writing and storytelling to public records and ethics.
His favorite class so far? Sports Media and Society, taught by Journalism Department Chair Ted Spiker. "I'm not a morning person, and that class was at 9 a.m. my freshman year — it was a little tough. It was always interesting, always had guest speakers. It solidified that I wanted to switch to Sports and Media."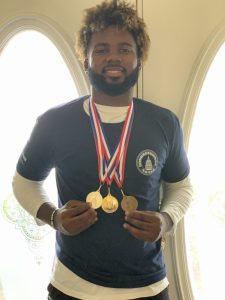 He plans to graduate in May 2022 and then is considering taking a one-year sports management degree program. His ultimate goal is to go to law school to become a disability rights and sports attorney. He spent one month as a participant in Florida State University's Donald J. Weidner Summer Law Institute, which "opened my eyes to what it's like. It gave me insight."
Jackson has learned four other languages — Latin, Spanish, Mandarin and American Sign Language (ASL) — although he's not fluent in every one, he said. ASL is his favorite, thanks to his professor at UF, Zulma Santiago Zayas. "She is deaf, so that encouraged us to get good at it pretty fast. We had a translator the first day, then she was gone. For someone who couldn't talk, her presence was so loud. She had such an impact on our lives. It was the hardest to learn — it's not just about physically saying the right words. You have to put expression, emotion in your facial gestures."
An only child who was born in Chicago and lived in Georgia before moving to Tampa Bay, Jackson calls his mother his "agent," the person who always helped him. Lashina Lewis is a cardiovascular perfusionist at the James A. Haley Veterans' Hospital in Tampa. His father lives in Charlotte, N.C.
Jackson is the author of four books, including One Poke, Two Pokes, Three: This is Not a Joke!, a depiction of what kids go through when battling adult size diseases. He is an Eagle Scout with 139 merit badges, the most possible, and the founder of four non-profits, including the one he did to earn his Eagle Scout — NJ's Love to the Rescue, which is now partnered with the Parent Heart Watch Inc. Through that program he has donated to or helped procure Automatic External Defibrillators (AEDs) for youth sporting programs and helped to provide heart screenings for student-athletes.
He's also started:
Cool Socks for Cool Kids, which stemmed from a visit to the Joshua House, a safe haven for abandoned and abused kids. "The kids were wearing basic socks. I was wearing white and black shocks with dots in the back. The kids thought they were the coolest thing they've ever seen." He raised money to buy the kids "super cool" socks. "They felt original, not just a number. It gave me a new perspective on how the smallest things can have the biggest impact."
A program to provide blankets to veterans at the Haley House.
Pajama Buddy Drab Bags, which started when he delivered stuffed animals to kids in the hospital. As more people started to donate, he was delivering everything to iPads and Kindles, he said. "One family in Kentucky drove to Tampa to deliver stuff — they left it on my doorstep. That was intense. They did an eight- to 10-hour drive just to help me."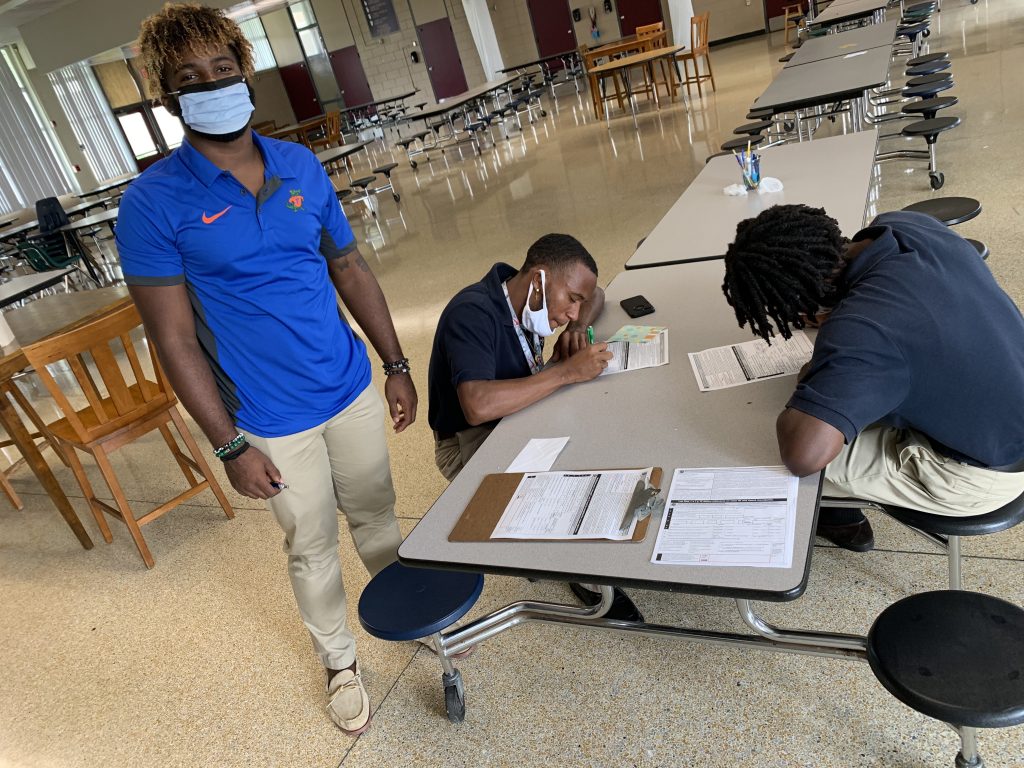 He also works with Youth Service America to convince youth to vote. "I feel like a lot of young adults aren't voting as much as they should be. We are the future. Our parents have paved the way for us. As their era closes out, we have to take a step."
During the summer, he worked as a certified lifeguard at Adventure Island in Tampa.
At UF, he's learned that there's always room for improvement, and professors are there to help. "You have to be able to take constructive criticism. At the end of day, they are not there to pick on you or hurt your feelings. They are there to make you the best reporter or editor or whatever you can be. I was a little stubborn at first. Even in high school, I thought they were bashing me, insulting me.  They obviously see something in you if they take the time to correct you and pick on you."
Posted: August 30, 2021
Category: College News, Diversity News, Profiles
Tagged as: N'Jhari Jackson