Rachel Grant Authors Article on Charlotta Bass' Role in 1950s Civil Rights Leadership
Rachel Grant, University of Florida College of Journalism and Communications Journalism assistant professor, is the author of "'The White Side of the Fence:' Charlotta Bass and the Wesley Robert Wells Case, 1947-1954" published in Media History on July 2.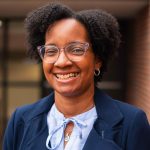 In the study, Grant examined the leadership role of Charlotta Bass, the editor/publisher of the California Eagle in Los Angeles during the 1950s. Bass helped lead a massive protest campaign in the legal case for Wesley Robert Wells, an inmate sentenced to death row in 1947. During the Cold War, scholars recognized that Black women challenged patriarchal leadership by creating their own paths toward Black radicalism.
According to Grant, "Bass' leadership is significant because it adds to pre-Civil Rights Movement activism and protests literature. Her newspaper supported Wells' campaign targeted at bringing awareness of racism within the prison system. Bass also served as the chairman of the Wesley Wells Legal Defense committee, where she produced a newsletter. Bass played a vital role in the case on several fronts as she brought attention to racism within criminal justice practices, prison violence and capital punishment."
Posted: July 6, 2021
Category: College News, Diversity News and Profiles
Tagged as: Rachel Grant