CJC Students Honored in National 2020 SPJ Mark of Excellence Competition
University of Florida College of Journalism and Communications student journalists were honored in the National 2020 Society of Professional Journalists (SPJ) Mark of Excellence Awards competition. The awards recognize the best collegiate work published or broadcast during 2020.
National SPJ Mark of Excellence winners and finalists include:
Editorial Writing: Winner: Zachariah Chou, The Independent Florida Alligator's COVID-19 editorials
Radio Sports Reporting: Winner, Gabriela Mercurio, "Pink Dragon Ladies
Broadcast News Videography: Winner, Joseline Donoso, "Door to Disaster"
Broadcast Feature Videography: Winner, Victor Prieto, "Beyond the Finish Line"
Broadcast Sports Videography: Finalist, Victor Prieto, "Saints Weather the Storms"
Television In-Depth Reporting: Finalist, Chris O'Brien, "Four Days, Five Murders"
Best All Around TV News Magazine: Finalist, WUFT Student Staff, "The Forgotten City"
Covid-19: Video Coverage: Finalist, Large School Division, WUFT Student Staff "COVID vs. a College Town"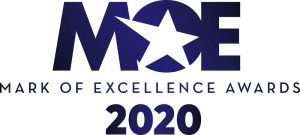 The students who received first place in their categories in the 2020 SPJ Mark of Excellence Region 3 regional competition in March were automatically advanced to the national contest for judging.
Posted: June 7, 2021
Category: College News, Diversity News, Student News
Tagged as: 2020 National SPJ Mark of Excellence Awards