CJC Alum Promoted to Senior VP and Head of Programming for Fox Weather
Steve Baron, B.S. Telecommunication 1994, has been promoted to senior vice president and head of programming for Fox Weather based in New York.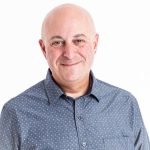 Fox Weather, part of Fox News Media, has a team of more than 75 meteorologists from stations owned and operated by parent company Fox Corp. along with Fox News newsgathering personnel. The company provides local, regional and national weather updates as well as live programming.
Previously, Baron served as chief strategy officer for the Local Media Association and as vice president of digital at Nexstar Media Group, Inc. He was named to the Broadcasting & Cable's Digital All-Stars list in 2016.
Posted: May 24, 2021
Category: Alumni News, College News, Diversity News