CJC Alum Reappointed to FAMU Board of Trustees
David Lawrence, B.S. Journalism 1963 and Hall of Fame 1982, has been reappointed to the Florida Agricultural and Mechanical University (FAMU) Board of Trustees by Florida Governor Ron DeSantis.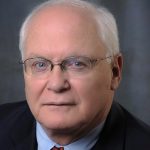 Lawrence has served on the FAMU Board of Trustees since 2015. He is the former publisher of the Miami Herald and the Detroit Free Press, retiring in 1999 to become a leading national advocate for children.
Currently, he serves as chair of The Children's Movement of Florida, a citizen-led, non-partisan grassroots movement of Floridians focusing on increased investment in the first five years of all children. He is the founding chair of The Children's Trust of Miami-Dade County, former chair of the Early Learning Coalition of Miami-Dade/Monroe and The Everglades Foundation director emeritus.
Posted: May 21, 2021
Category: Alumni News, College News, Diversity News
Tagged as: CJC Hall of Fame, David Lawrence, FAMU Board of Trustees